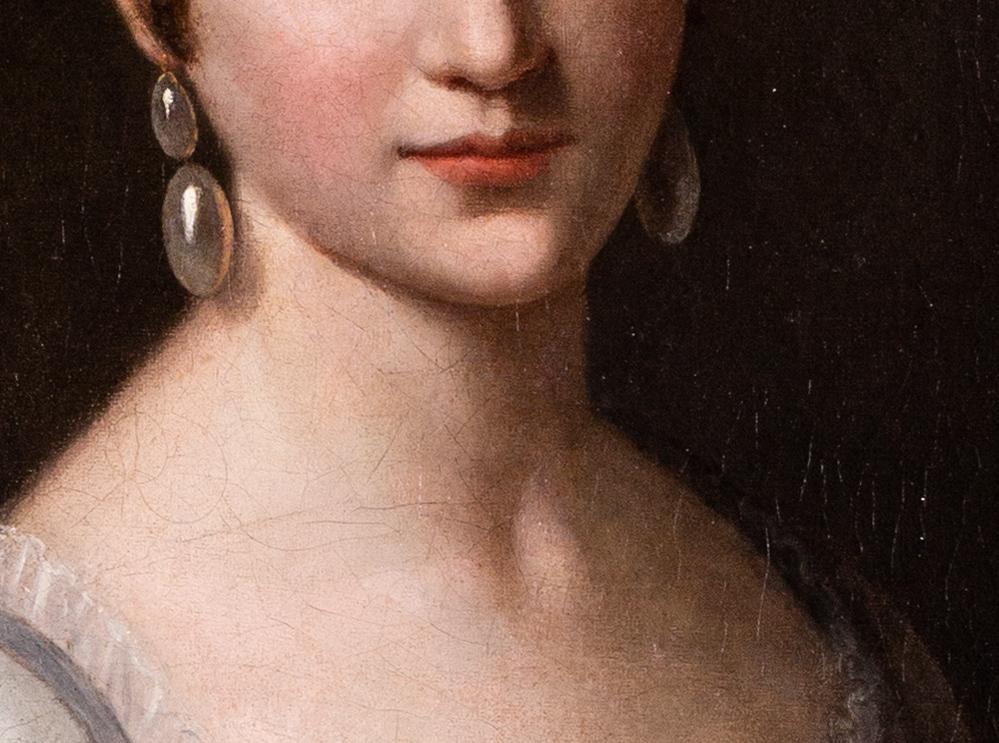 Price
£15000.00
The BADA Standard
Since 1918, BADA has been the leading association for the antiques and fine art trade
Members are elected for their knowledge, integrity and quality of stock
Our clients are protected by BADA's code of conduct
Our dealers' membership is reviewed and renewed annually
Bada.org is a non-profit site: clients deal directly with members and they pay no hidden fees
Click here for more information on the BADA Standard
Attributed to Pierre Paul Prud'hon (French, 1758-1823)
La Belle Musicienne
Oil on canvas, oval
Signed 'P. P. Prudon' (lower left)
28.3/4 x 23.1/2 in. (73 x 59.5 cm.)
Pierre Paul Prud'hon is considered a prime example of early French Romanticism. He was born as the seventh and last child of a master tailor. At the age of 16 he was a pupil of the painter and sculptor Francois Devosge. After finishing his studies he moved to Paris, where he first worked for an engraver and became friends with the Baron of Joursanvault, who became his patron.
He also made a friendship with the "incorruptible", the politician and revolutionary Maximilien de Robespierre. Despite important friendships and the care of some cardinals, Prud'hon plunges into loneliness and melancholy. He has a good reputation and produces allegorical paintings, but his attachment to Robespierre forces him to leave the French capital.
He now lives in the Free County of Burgundy, where he makes portraits and illustrations for Pierre Didot, the owner of the printing house. After a few years he moved back to Paris and his career received a new impetus.
In the Louvre, Prud'hon is provided with a studio in which he paints "La sagesse et la vérité descendant sur la terre" (Wisdom and Truth descend to earth) for one year, as well as some ceilings of the Louvre. The government assigns him a studio in the Sorbonne, where his wife Jeanne, whom he married at the age of 19, comes looking for him.
To escape her, he asks the museum director for protection. In 1808 he wrote "La justice et la vengeance divine poursuivant le crime" (Justice and divine revenge pursue the crime). In the same year he is also named Knight of the Legion of Honour and is able to break with his grumpy wife once and for all. He soon reconnects with his student and painter of neoclassicism Constance Mayer.
Pierre is commissioned to paint a portrait of the Empress and wife of Napoleon, Joséphine de Beauharnais, which can still be seen today in the Louvre. He also paints the small "Roi de Rome" (King of Rome). In 1816 the Academy of Fine Arts elected him a member, where he took over the armchair in the painting section of François-André Vincent.
A few years later his depressed wife commits suicide, and full of pain Prud'hon finishes her last work "Une famille malheureuse" (Engl. An Unhappy Family) and exhibits it. He himself dies soon afterwards and is buried in Paris.
Many renowned artists admire Prud'hon for his "clair-obscur", the chiaroscuro painting, and for his subtle realism. Among his admirers are Balzac, Baudelaire, Delacroix and many others.
The BADA Standard
Since 1918, BADA has been the leading association for the antiques and fine art trade
Members are elected for their knowledge, integrity and quality of stock
Our clients are protected by BADA's code of conduct
Our dealers' membership is reviewed and renewed annually
Bada.org is a non-profit site: clients deal directly with members and they pay no hidden fees
Click here for more information on the BADA Standard