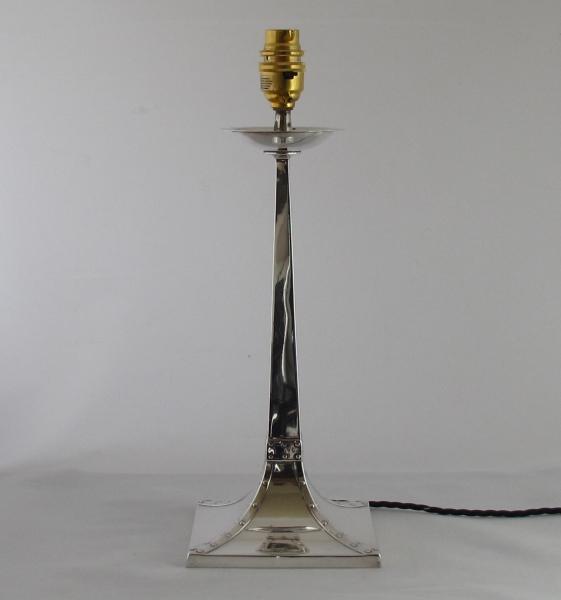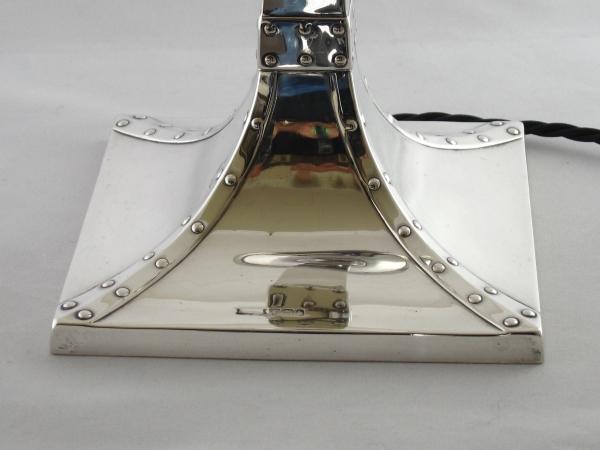 About the dealer
About the object
A James Dixon and Sons Arts and Crafts silver table lamp base. The design is attributed to Jan Eisenloffel in 1902 and was copied by James Dixon and Sons. They also made candlesticks using this design.
The lamp is of a square based form with strap and faux rivet decoration. The base is weighted to make the lamp more stable. The lamp has been rewired and PAT tested. Approx height 32 cm.
The hallmark is rubbed but is James Dixon Sheffield 1922. Apart from the rubbing to the Hallmark the lamp is in excellent condition
History
James Dixon & Sons were founded in 1806 in Sheffield. They were one of the major British manufacturers in the Industrial Revolution of the 19th century. They were well known as manufacturers of Pewterware, Electroplated Britannia metal, Silverware and Electroplated nickel silver.
Their products included hundreds of items for use in the kitchen (e.g. bowls, cutting-tools) and the dining room(e.g. tea services, cocktail shakers and mixers) as well as items like candlesticks for all rooms.
They were a world leader in manufacturing shooting accessories through nineteenth century and exported powder flasks in large quantities to America, They were known as whistle makers, which like most of their products were of outstanding quality; they were one of the 4 great whistle makers, the others being W Dowler & Sons, J Stevens & Son & T Yates.
They were one of the foremost names in EPNS and sterling silver tableware including silver tea services and hollowware pieces. They also made silver ware serving pieces and had a wide catalogue of patterns. Their tea sets and hollowware pieces produced in silver are very valuable as antiques.
The firm continued to be a family run enterprise until 1976.
Date Sheffield 1922
Dimensions
Approx height 32 cm
Condition report
The hallmark is rubbed but is James Dixon Sheffield 1922. Apart from the rubbing to the Hallmark the lamp is in excellent condition