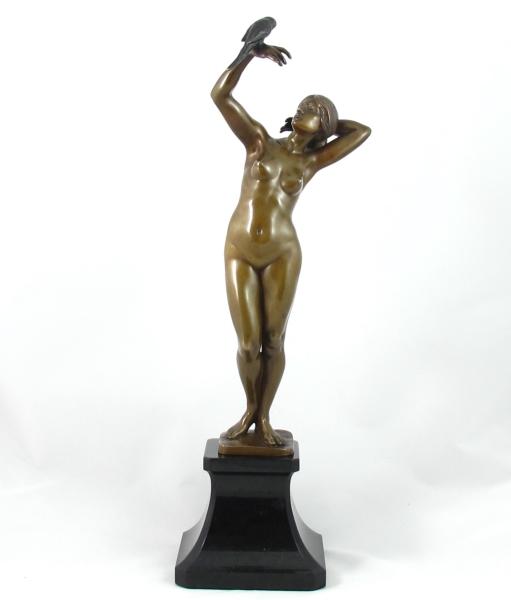 About the dealer
About the object
A beautiful patinated Art deco bronze figure of a standing female nude holding a Parakeet in her hand. Shaped Marble base. Signed Jaeger in the bronze. Fine hand finished detail makes this figure a stunning piece.
Approximately 56 cm tall. Made in Germany c 1920. This figure is shown in Bermans Bronzes vol 4 ref 4226
History
Gotthilf Jaeger born 29 June 1871 in Cologne and died in 1933 in Berlin. Jaeger was a student of the sculptor Hermann Volz at the State Academy of Fine Arts Karlsruhe from 1892 to 1893.
He also studied at the Städel Art Institute in Frankfurt am Main and the Royal Prussian College of Metal industry in Iserlohn. Later he taught at the Ducal School of Applied Arts and College in Pforzheim.
The sculptor maintained a studio in Berlin-Wilmersdorf and later in Berlin. His numerous bronze figures often show female and male nudes in the Art Nouveau style, many with a mythological subject, later works were based on the Art Deco style.
His works are featured in many collections in Germany and Austria.
Date c 1920
Dimensions
Approximate height 56 cm including the base
Condition report
Excellent original condition.