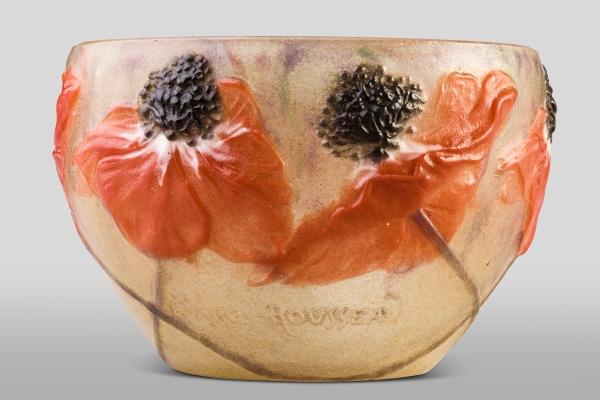 About the dealer
About the object
Gabriel Argy Rousseau – A stunning pate de verre Anenomes bowl. Signed. Made in France c 1919. Shown as 20.15 in the Catalogue Raisonne by Janine Bloch-Dermant.
Approx height 7.5 cm and width 11.3cm. Excellent original condition. Stunning colours showing the technique and artistry of the maker. A truly delightful example
History
Argy-Rousseau was born in 1885 in a french town called Meslay-le-Vidame. He studied at l'Ecole nationale de Céramique de Sèvres together with Jean Cros, the son of Henri Cros, inventer of pâte-de-verre.
It is probably through his contacts with Jean Cross that ARGY-ROUSSEAU came in contact with the pâte-de-verre medium which he would use as a base material for the majority of his glass designs.
His first works as a glass artist were displayed at the Salon de Artists Français in 1914. In 1921 he started his own glassworks in Paris, Les Pâtes de Verres d'ARGY-ROUSSEAU, together with Moser-Millot, financer and chairman of the company.
The glassworks used semi-automated techniques to produce some of ARGY-ROUSSEAU's designs in series. These designs mainly consisted of vases in art deco style, but also boxes, sculptures, ashtrays and pendants were made.
By the mid-1920s ARGY-ROUSSEAU was at the top of his fame and he was invited to be one of the judges at the Paris exhibition in 1925.
Due to the economic crisis in the 1930s the factory had to close in 1931 and ARGY-ROUSSEAU was forced to continue as an independent artist, making individual pieces. He kept on making glass items almost until his death in 1953.
Date c 1919
Dimensions
Approx height 7.5 cm and width 11.3cm
Condition report
Excellent original condition. No nicks chips or polishing.