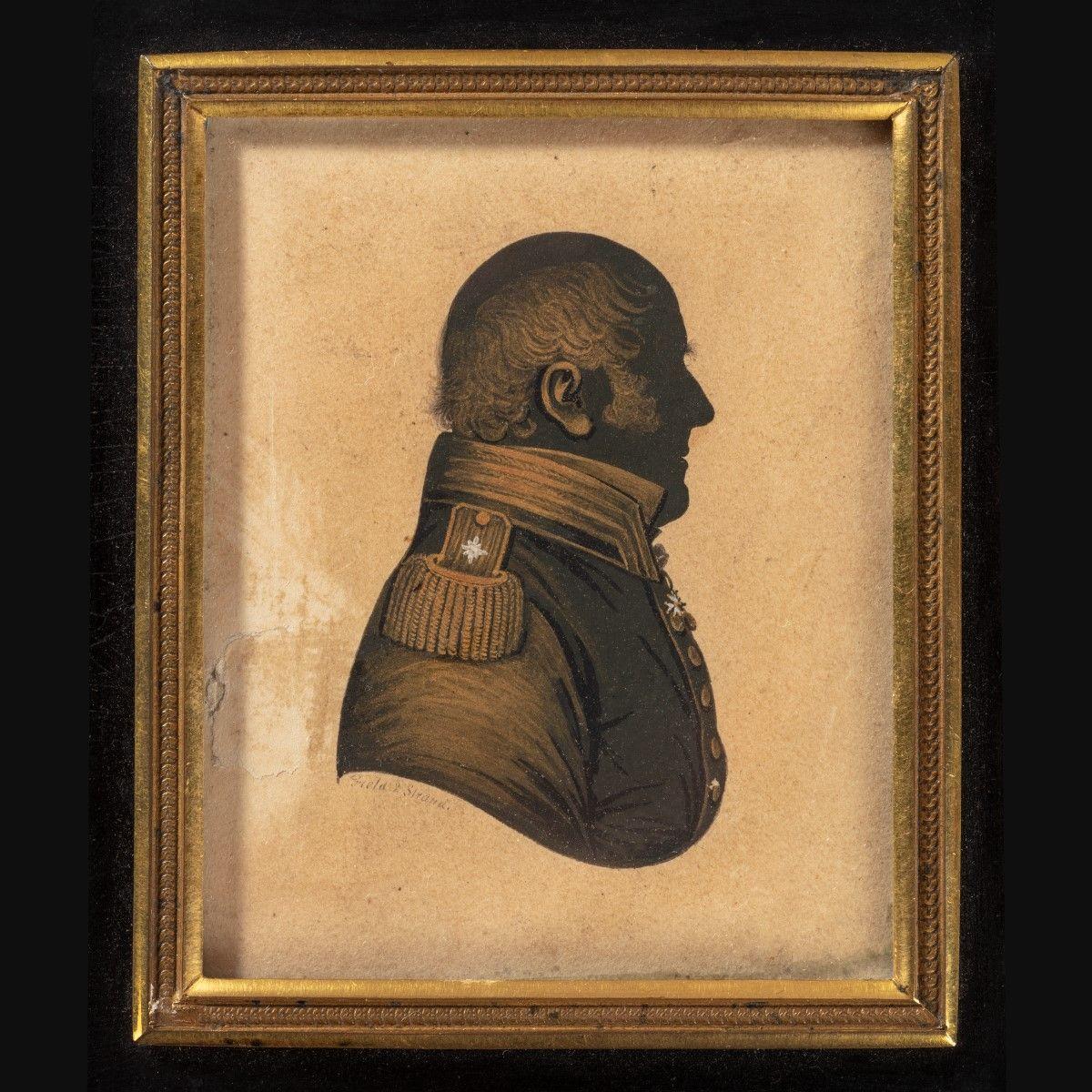 About the dealer
About the object
This silhouette shows Admiral Sir Thomas Hardy in dress uniform and facing to the left. The reverse is inscribed in cursive handwriting 'Ad. Sir T Hardy K.C.B. Gov. G H. J Field Profilist to their Majesties, 2 Strand, London.'

English, circa 1830.

Vice-Admiral Sir Thomas Masterman Hardy, 1st Baronet, GCB (1769-1839) fought alongside Nelson at the Battles of Cape St Vincent and the Nile before serving as the Admiral's flag captain in Elephant at Copenhagen, then Victory at Trafalgar.
Nelson was shot as he paced the decks with Hardy, and as he lay dying, Nelson's famous remark of 'Kiss me, Hardy' was directed at him. Hardy was appointed commodore of the Portuguese Navy in 1811.
He was, briefly, first sea lord in 1830 then governor of Greenwich Hospital, from 1834 until his death, during which period he visited the Strand to have his silhouette taken by John Field.
John Field (1772-1848) was 'one of the finest and most famous of silhouette artists' recorded by Emily Jackson in 'The History of Silhouettes' (The Connoisseur, London, 1911).
Field began his career as an assistant to the great silhouette artist John Miers, and rose to be, as he described himself, 'sole profile painter for Mr Miers, of 111, Strand'. He began sending exhibits to the Royal Academy in 1800.
By 1830 he had come to the notice of Queen Adelaide who wrote 'Her Majesty has been pleased, by the following warrant, to appoint Mr. JOHN FIELD, of No. 2 Strand, her Profilist, which distinguished mark of honour has already been conferred on him by H.R.H. the Princess Augusta: as also His Present Majesty's Royal Permission (signified to her Royal Highness) permitting Mr. F. to be his Majesty's Profilist….ADELAIDE R.'
Dimensions
H 6.00 inch (15.24 cm), W 5.25 inch (13.33 cm)