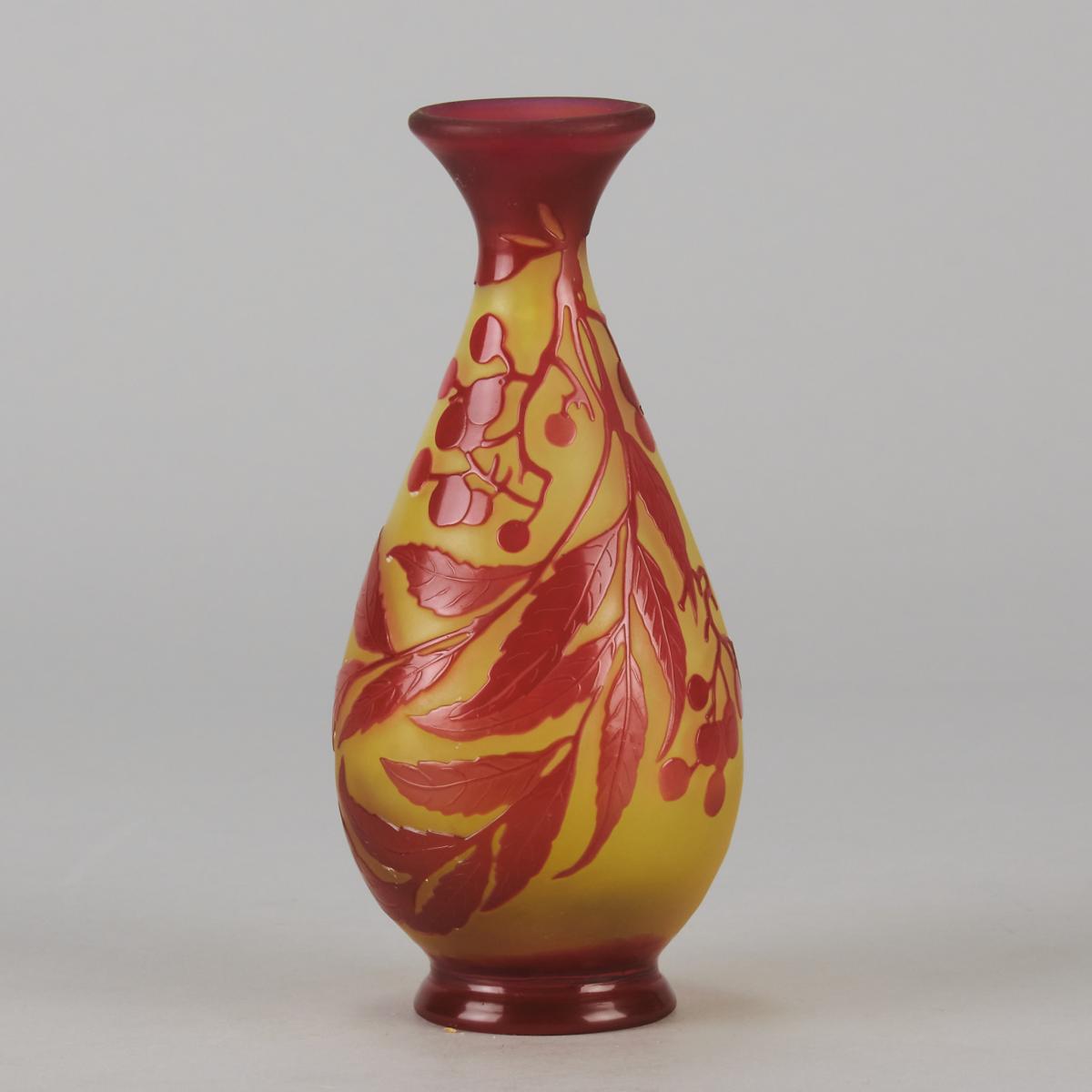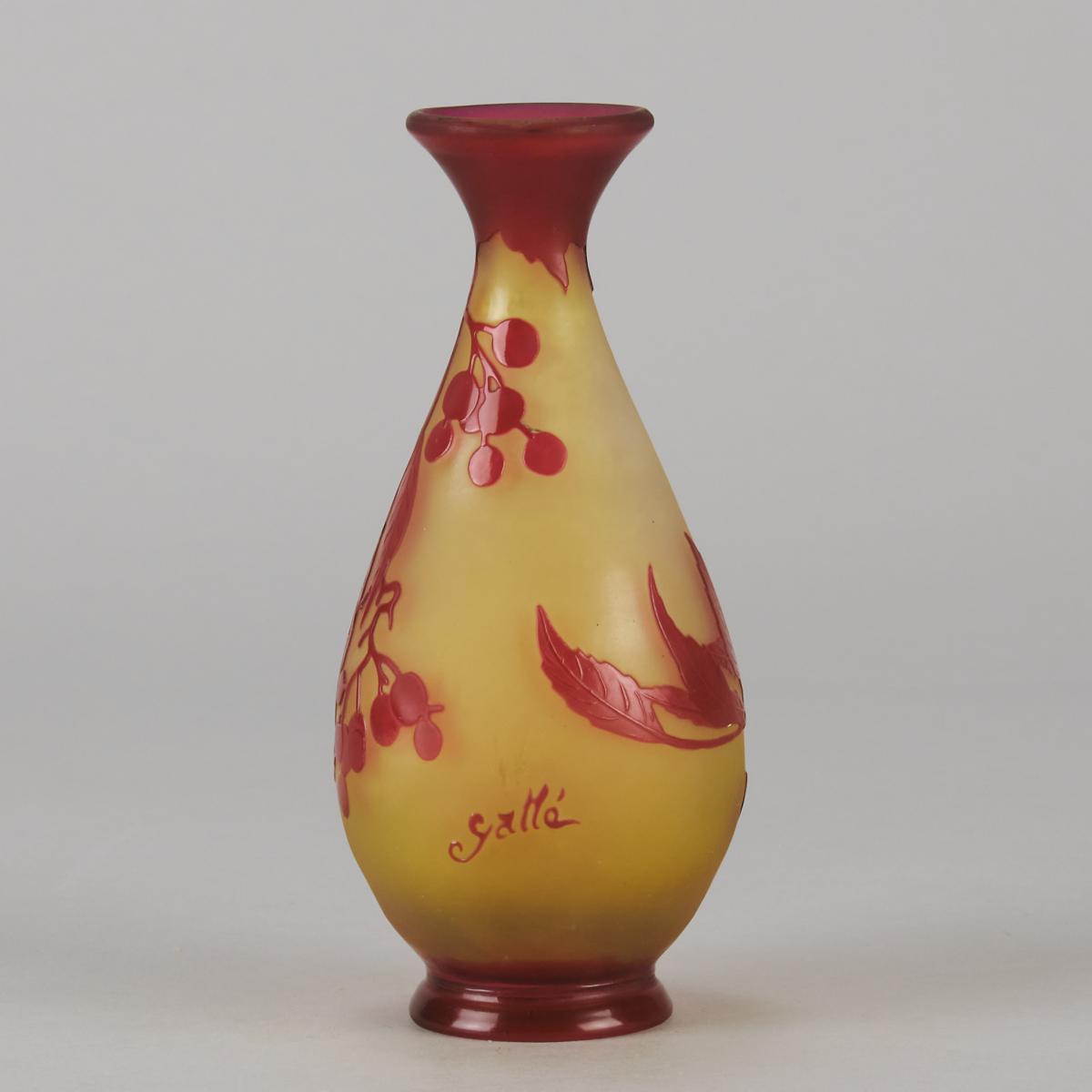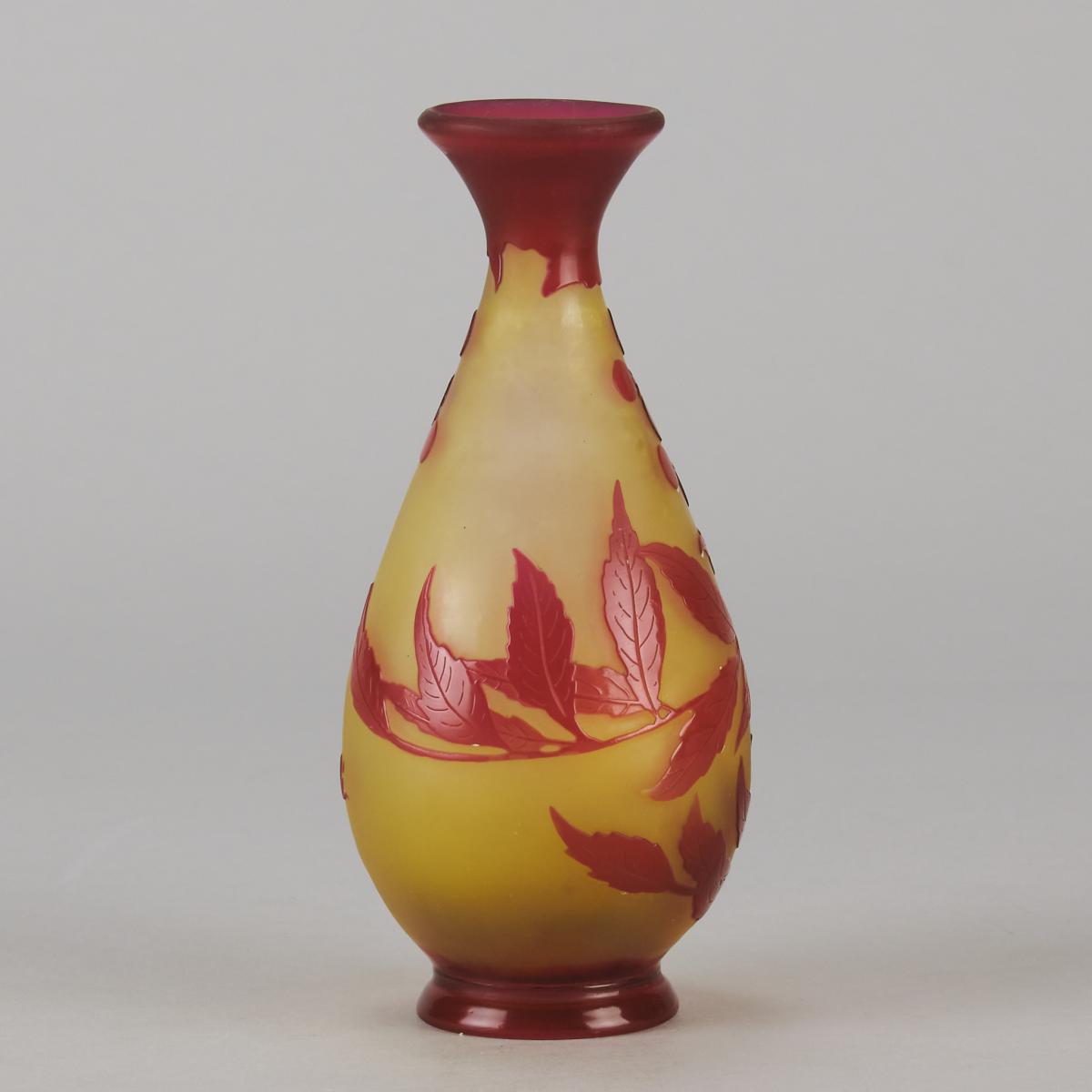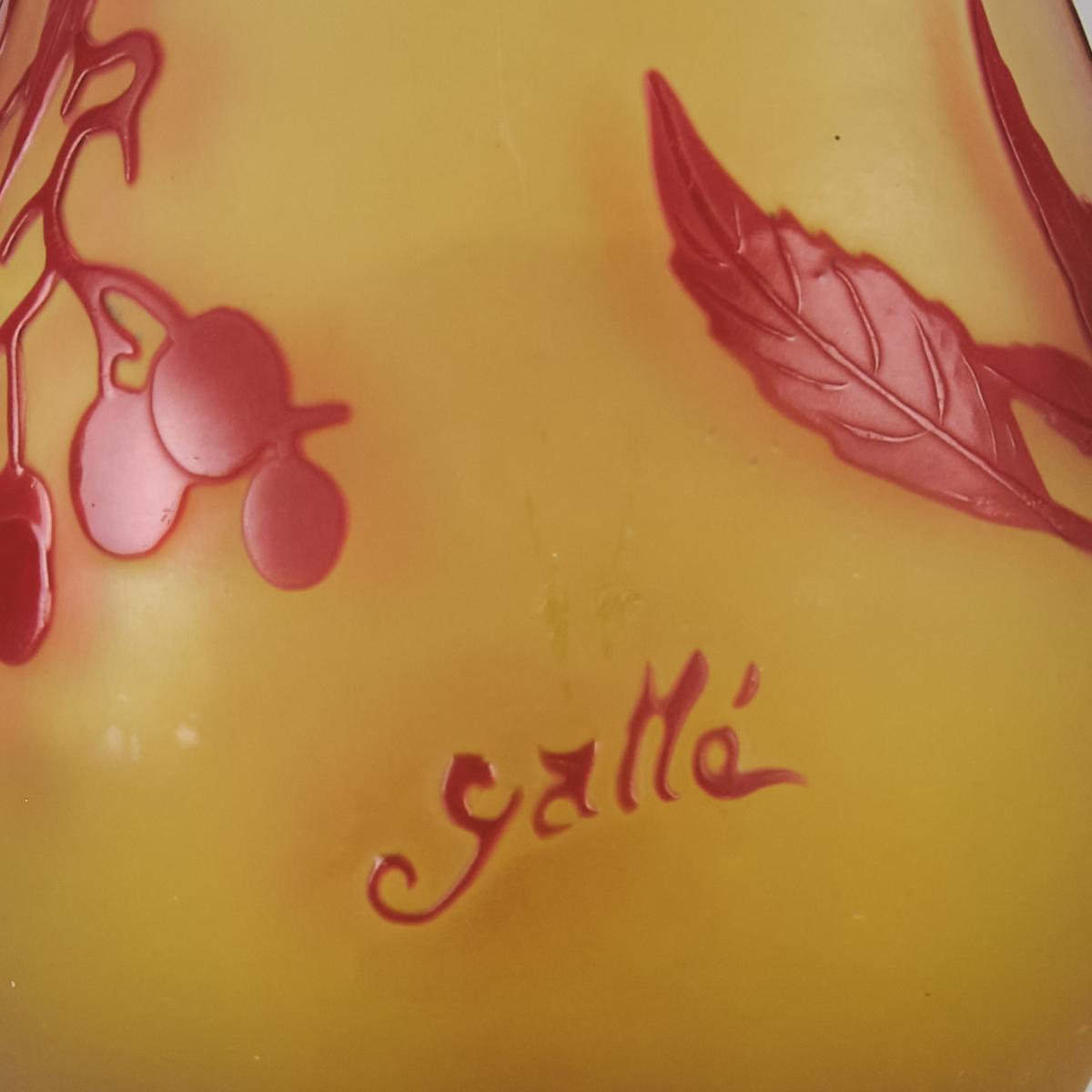 Price
£950.00
The BADA Standard
Since 1918, BADA has been the leading association for the antiques and fine art trade
Members are elected for their knowledge, integrity and quality of stock
Our clients are protected by BADA's code of conduct
Our dealers' membership is reviewed and renewed annually
Bada.org is a non-profit site: clients deal directly with members and they pay no hidden fees
Click here for more information on the BADA Standard
To be exhibited at
BADA Gift List - Under £1000
A beautiful early 20th Century cameo glass vase acid cut and etched with a bright red floral decoration against a warm orange background. Exhibiting very fine hand finised surface detail and vibrant colour, signed Galle in cameo.
---
ADDITIONAL INFORMATION
Height: 15 cm
---
Diameter: 7 cm
---
Condition: Excellent Original Condition
---
Circa: 1900
---
Materials: Acid Cut Cameo Glass
---
SKU: 6534
---
ABOUT
Emile Gallé, 1846 – 1904 is considered a driving force behind the Art Nouveau movement and one of the most outstanding glass artists of his time. His naturalistic designs and innovative techniques greatly contributed to the development of the art of glass-making and to the Art Nouveau Style.
Emile lived during an age of technological, scientific, and political explosion. He travelled extensively in Europe and witnessed techniques that would greatly influence his work such as cameo and enamelling. He began producing fine pottery, furniture and jewellery before setting up his own glass studio in 1873 and taking over his father's factory 4 years later.
After being inspired by the glass works at the 1878 International Exhibition in Paris, particularly cameo works, Gallé made his mark as a true artist in glass at the 1884 Union Centrale des Arts Décoratifs in Paris where he showed 300 pieces of great artistic variety as well as technical expertise. He returned to the International Exhibition in Paris in 1889 to present his own new types of glass. The pieces featured new vase shapes, extraordinary new colours, carved cameo and pate de verre work. The event was a breakthrough for him and the Art Nouveau style in general, with his pieces beginning to be widely imitated (notably by the likes of the Daum brothers.)
In 1894 Gallé built his own manufacturing plant in Nancy which throughout the 1890's employed a team of craftsmen-designers who worked on his designs, only ever applying his signature after his approval. Demand for Gallé's work was high so there were 300 employees working at the factory and Gallé revolutionised the Art Glass industry by mass-producing pieces using industrial techniques for the first time.
He enjoyed great success exhibiting his Art Nouveau works winning international awards and recognition through commissions and increased popular demand, and in 1901 he founded and was first president of 'L'Ecole de Nancy'.
Gallé died in 1904 and his widow continued to run the glassworks until the war broke out in 1914. Glass sold since Gallé's death was marked with a star after his signature and continued to be made until 1935 when the firm closed down.
Influences, Style and Technique
Emile Gallé was greatly influenced by the techniques he learnt while travelling around Europe, such as the cameo glass of great designers like Eugene Rousseau, and the enamelling used on Oriental pieces. Every piece created by his factory was heavily influenced by his passion of naturalistic designs. His pieces feature every sort of plant life, from thistles to fuchsias, clematis to chrysanthemums. Insects were also a frequent theme, with many of his pieces including butterflies, dragonflies and insects. Gallé also often decorated his pieces with landscape scenes, and was also influenced by Japanese design.
Gallé's Cameo Glass was made with layering coloured glass, using acid to remove part of the layers and adding wheel carved detail on the better pieces. He discovered applying metallic foils between the coloured glass sheets created a stunning effect, especially when applied in the cameo work. His enamel work was just as revolutionary as he mixed metallic oxides with glass and suspended them in oil, giving the pieces a completely different finish after firing.
Gallé's glass vessels are each unique in their own way, often containing blazes of colour, constellations of air bubbles, shimmering flecks of imbedded metal foils, and often, entrapped figures of insects that seem to float in a haze. The effects used brought his subject matter to life, and his constant adoption of new techniques and imaginative use of them in combination with his own influences and industrial innovations revolutionised the art of glass making.
His work normally signed Gallé in relief. Works made by his factory after his death, in 1904, are marked with a star after his signature.
The BADA Standard
Since 1918, BADA has been the leading association for the antiques and fine art trade
Members are elected for their knowledge, integrity and quality of stock
Our clients are protected by BADA's code of conduct
Our dealers' membership is reviewed and renewed annually
Bada.org is a non-profit site: clients deal directly with members and they pay no hidden fees
Click here for more information on the BADA Standard