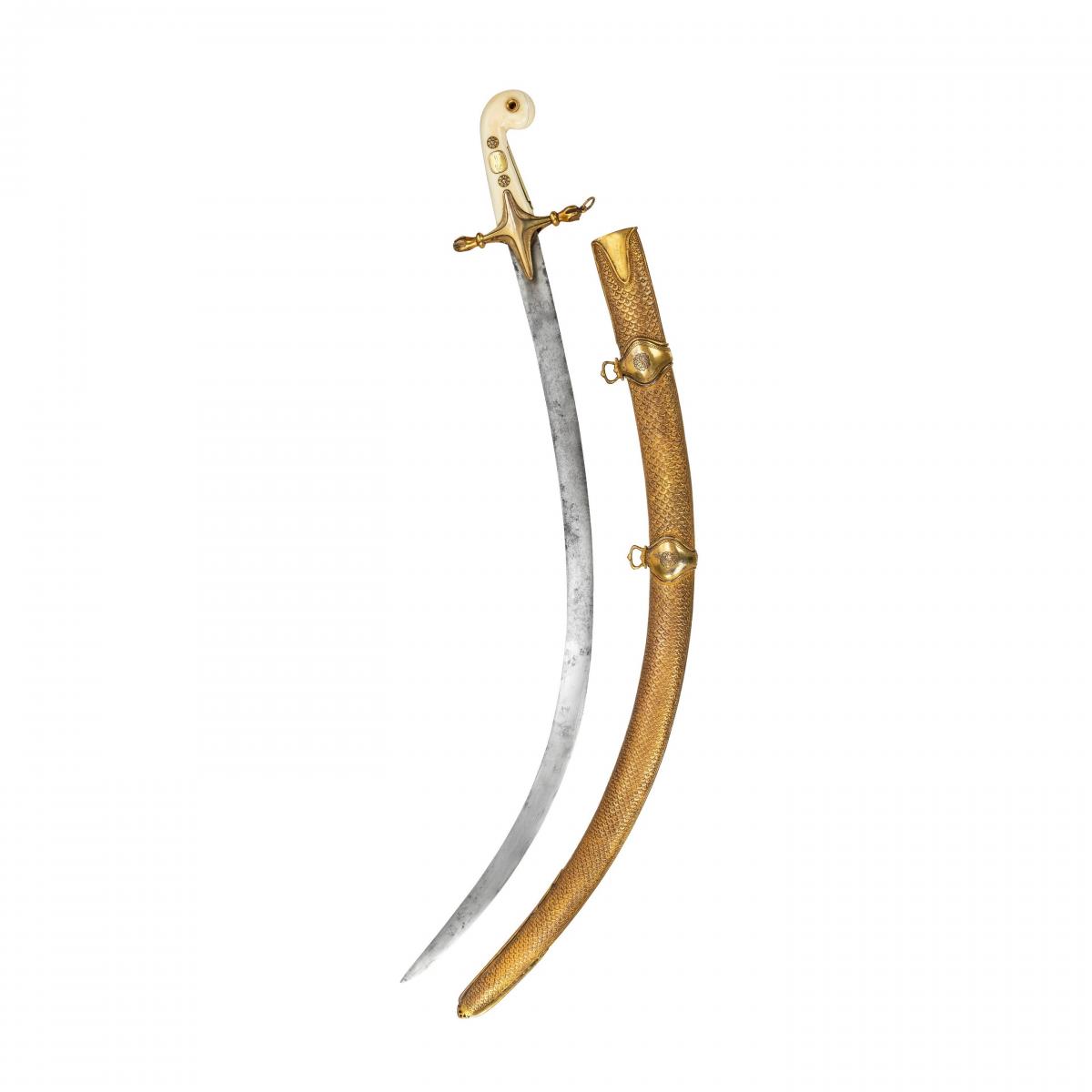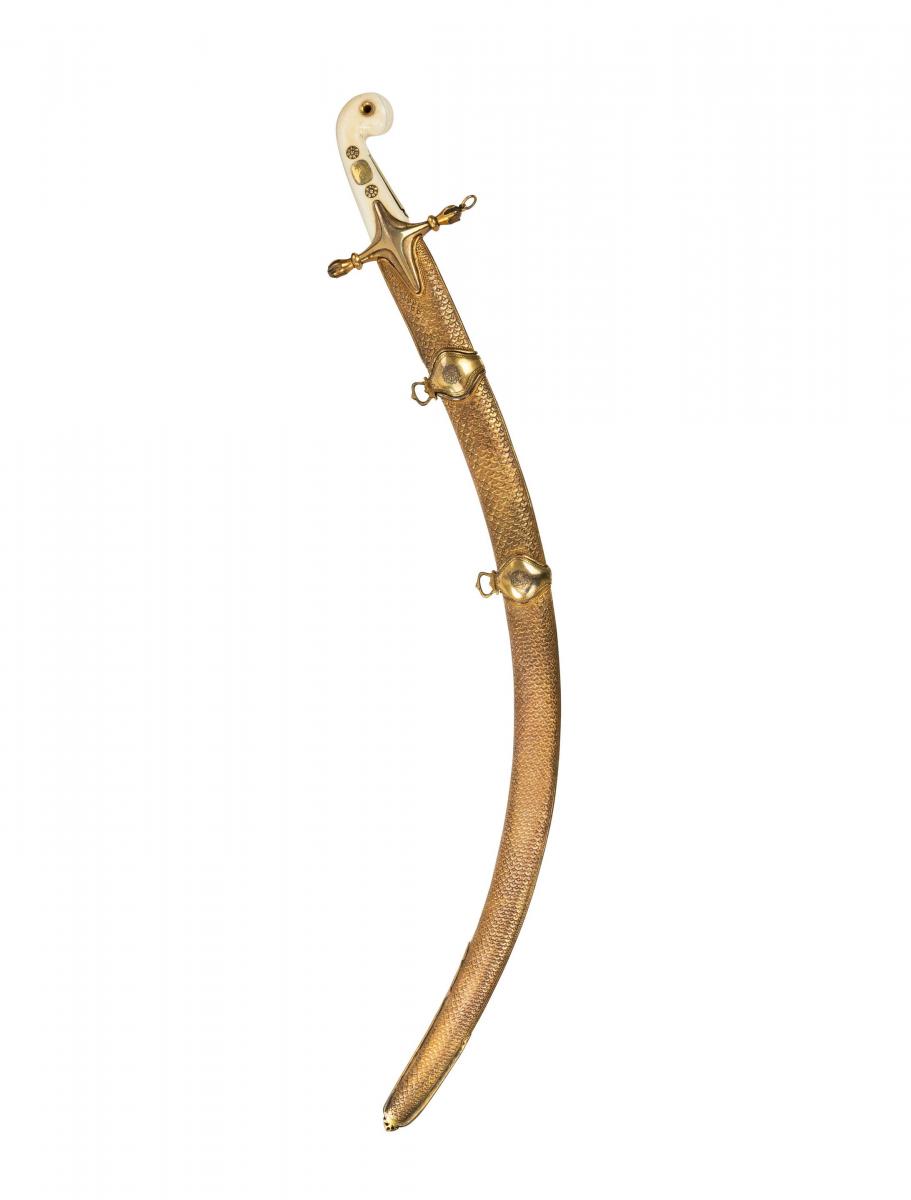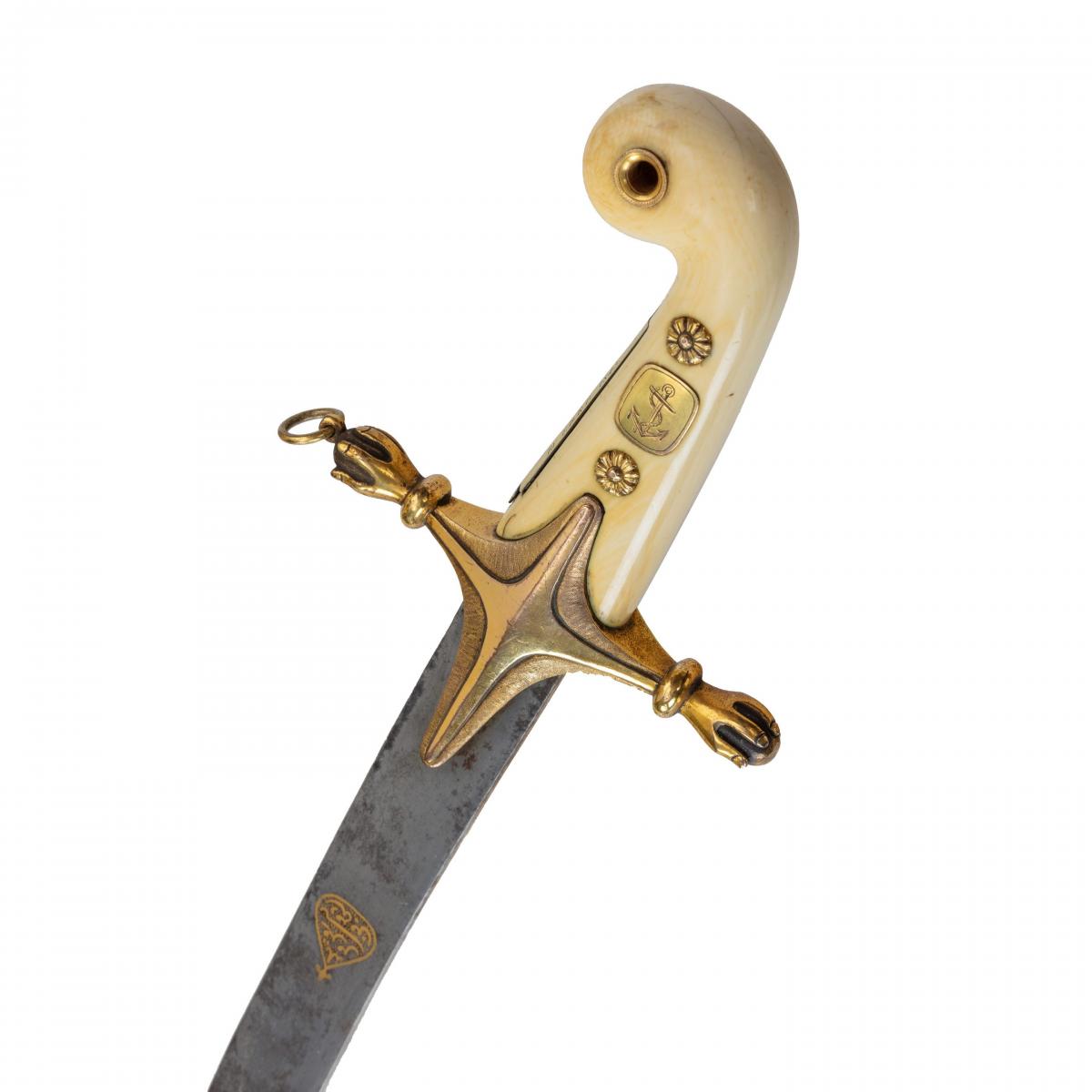 An ormolu-mounted naval presentation scimitar of Admiral Sir Edward Pellew, 1st Viscount Exmouth.
With oriental curved single-edged blade damascened in gold with a Turkish inscription 'pellou...serdümen' against a dotted ground, the hilt with an ivory grip and tapering quillons each terminating as a hand grasping a ball, grip mounted on one side with a gilt plaque engraved 'W to EP', and on the other with a fouled anchor.
The inside of the grip is later mounted with a gilt rectangular plaque engraved 'This Sword of Ad.l. Visc.t Exmouth Presented to his Flag Lieu.t & attached Friend Captn. J.S.W. Johnson R.N. By F.B.R.P. 1845.' In the original oriental wood- lined ormolu scabbard embossed and chased throughout with scales.
Turkish, Circa 1815

Admiral Sir Edward Pellew GCB, first Viscount Exmouth (1757-1833) ran away to sea at the age of fourteen. From a Cornish seafaring family of modest means, he nevertheless enjoyed the local patronage of Lord Falmouth and the Boscawen family securing a position as captain's servant in Juno, the first rung in a naval officer's career.
In the American War, he served with great distinction at Lake Champlain and, attached ashore, with General John Burgoyne's army. Back in home waters, he would gain a reputation as the outstanding frigate commander of the age, a later model for the fictional Horatio Hornblower.
In a series of actions through the 1790's, many in Indefatigable, guns; he secured some remarkable prizes, perhaps most notably, the 74-gun French battleship Droits de l'homme which Pellew drove ashore and wrecked in January 1797.
On land, too, he earned lasting fame when in the public's full gaze he led the daring rescue of the crew and passengers of Dutton, a troopship wrecked at Plymouth.

Fame and promotion brought command of Impétueux, 74-guns, an unhappy ship with a mutinous crew and an uncomfortable posting for the daring frigate captain.
After an equally undistinguished spell in parliament Pellew, now rear-admiral, was appointed commander- in-chief in the East Indies, another position for which he was ill-suited.
To his eternal regret this appointment made Pellew miss Trafalgar in October 1805 although his younger, and less distinguished brother Israel Pellew (1758-1832) fought the battle as captain of Conqueror.
By the end of the war in 1815, Pellew had been raised to the peerage as Baron Exmouth and made Admiral of the Blue. But his greatest feat still lay ahead.
As commander-in-chief of the Mediterranean, his attempts to secure treaties with the Barbary States to end Christian slavery had foundered with the massacre of Christians by the Bey of Algiers in 1816.
With the backing of parliament, Exmouth returned with a squadron of warships and bomb vessels and, on 27 August 1816, directed a close and violent bombardment of the heavily-fortified city, forcing its submission and the Bey's acquiescence to his terms.
For this astonishing achievement, Exmouth was raised to viscount and showered with presentations, possibly among them this sword which, of typical Ottoman form and manufacture was commissioned and gifted to 'EP' ('Edward Pellew') by an unidentified but obviously intimate friend 'W'.

Identified on the later presentation inscription as 'F.B.R.P.', Admiral Sir Fleetwood Broughton Reynolds Pellew CB KCH (1789-1861) was the second and favoured son of Viscount Exmouth. He joined his father at sea at the age of ten.
Benefiting from his father's patronage, but not his talents, Fleetwood Pellew was given his first command at seventeen. He saw action in the invasion of Ile de France in 1810 and at Java a year later, returning to England in 1812.
His next command was in the Mediterranean, and although involved in various actions around Italy he was ordered home in 1814 after a mutiny on his ship, believed to be partly due to his harsh style of command.
Although he was made a Commander of the Bath and had command of Revolutionnaire in the Mediterranean between 1818 and 1822, he was to spend the next thirty years on half-pay.
He served as Naval Aide-de-Camp to the Queen, rising to the rank of rear-admiral in late 1846, before being returned to active service in 1852 as Commander-in- Chief of the East Indies and China station.
He reached Hong Kong in 1854 but, facing mutiny, was almost immediately recalled, never to serve at sea again. He was promoted to Vice-Admiral in 1853, and full Admiral five years later.

John Samuel Willes Johnson (1793-1863) to whom Admiral Pellew gifted his father's scimitar was a nephew of Admiral Sir Davidge Gould, a veteran of the battle of the Nile and one of Nelson's 'Band of Brothers'.
He entered the Navy in 1807, joining Lord Exmouth's flagship Queen Charlotte, 100-guns, as lieutenant in 1814. Johnson remained in the ship and fought alongside the Admiral at the Bombardment of Algiers for which gallant service, no doubt, he was subsequently presented with this scimitar.
After the action, as detailed on the presentation inscription, he continued as Exmouth's flag-lieutenant (and 'attached Friend') at Portsmouth until 1821. An accomplished writer and artist, Johnson published a journal of a tour through France, Italy and Switzerland in 1827 and later entered parliament as MP for Montgomery Boroughs.
Dimensions
W: 35.50 inch (90.17 cm)