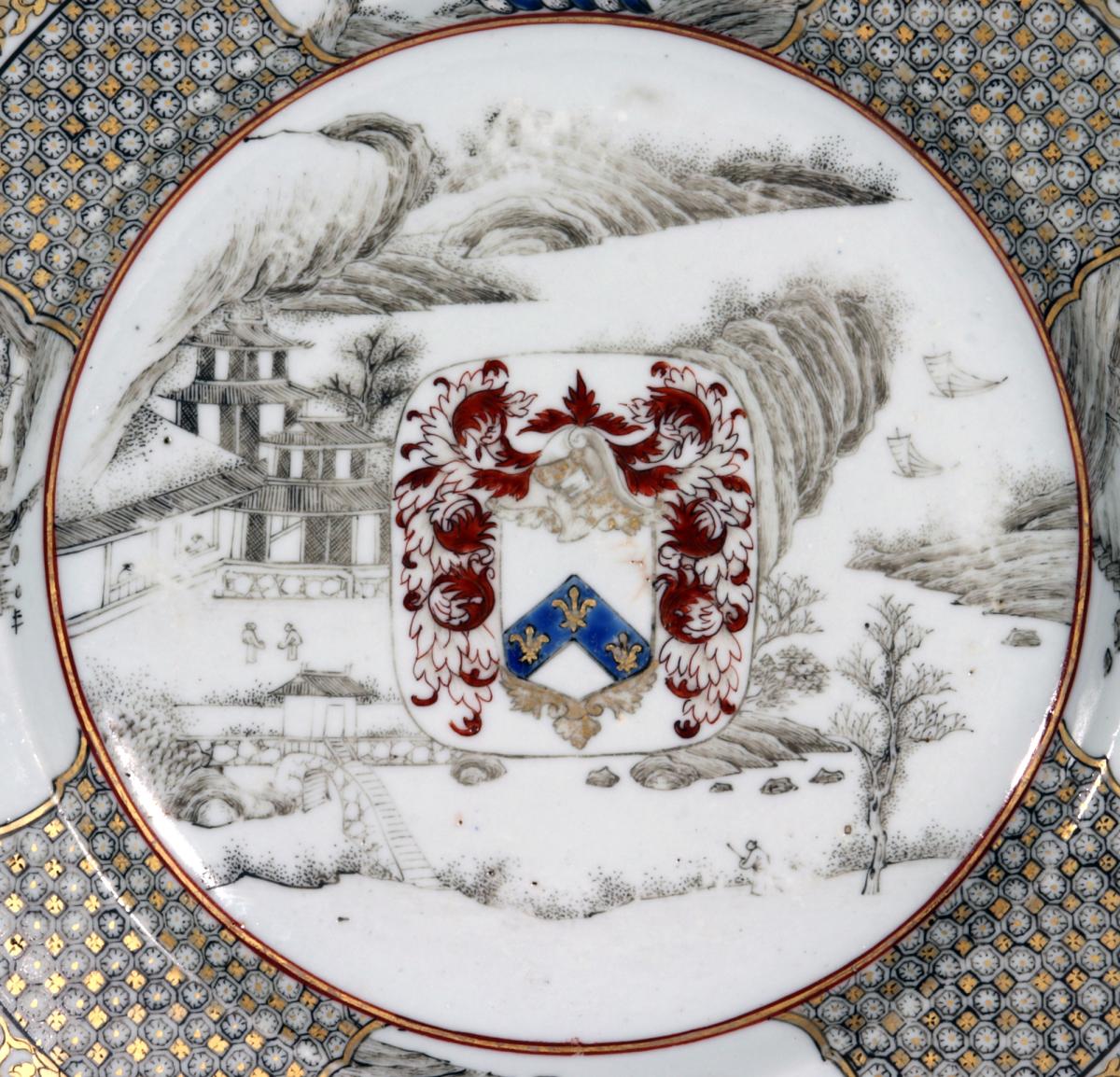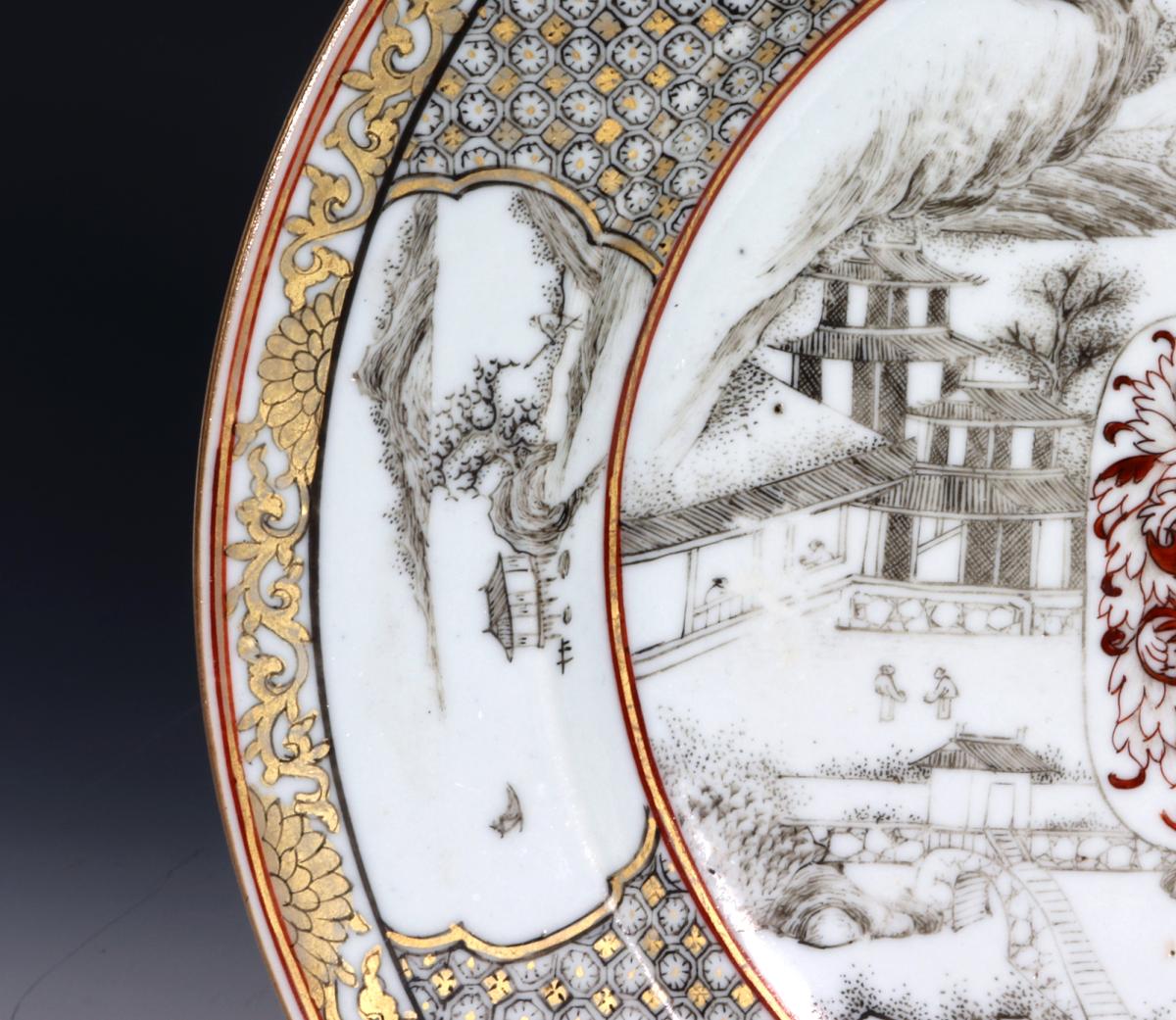 Price
£6000.00
The BADA Standard
Since 1918, BADA has been the leading association for the antiques and fine art trade
Members are elected for their knowledge, integrity and quality of stock
Our clients are protected by BADA's code of conduct
Our dealers' membership is reviewed and renewed annually
Bada.org is a non-profit site: clients deal directly with members and they pay no hidden fees
Click here for more information on the BADA Standard
Early 18th Century Yongzheng Chinese Export Porcelain Plate,
Arms of Elwick of Middlesex,
John Elwick of Mile End in Middlesex and of Cornhill in the City of London,
Circa 1730.
This rare Chinese Export armorial plate is painted with the coat of arms of Elwick of Middlesex in the center within a panel reserved against an en grisaille Chinese riverscape. The cavetto has an iron-red and gilt cell diaper border reserved with blossoms and four panels of gilt pomegranates. The rim has an en grisaille and gilt cell diaper ground reserved with four gilt oval riverscape panels. The top panel is centered by the armored arm crest and the rim edge has a gilt demi-blossom and a foliate-scroll border.
John Elwick was a director of the English East India Company, the firm that dominated the British trade with India and China. (See The Metropolitan Museum of Art's example- https://www.metmuseum.org/art/collection/search/204811).
The dimensions of the plate are 9 inches in diameter and 1 1/2 inches high.
Provenance
This plate was made for John Elwick, a director of the English East India Company. Elwick was a wealthy merchant who lived in Mile End in Middlesex and Cornhill in the City of London. He was a member of the Worshipful Company of Grocers and served as Sheriff of London in 1727.
Reference:
A virtually identical dish from this service made for John Elwick of Mile End and Cornwall is illustrated by Fuchs, p. 56, no. 19. Fuchs comments that this service is "the earliest datable example of porcelain decorated en grisaille," a color that, according to Père d'Entrecolles, the "Jesuit missionary who toured Jingdezhen in 1712 and 1722," reported had been difficult for the Chinese to fire successfully as the "China-Ink" dissipated in the heat of the kiln.
A larger deep dish from this service, now in the Metropolitan Museum of Art, New York, is illustrated by Claire Le Corbeiller, China Trade Porcelain: Patterns of Exchange, Metropolitan Museum of Art, 1974, p. 50, no. 22.
A plate is illustrated by Howard 1974, p. 234, no. E3; Krahl and Harrison-Hall, p. 215, no. 93; and Lunsingh Scheurleer, pl. 283.
A spoon tray illustrated by Howard and Ayers, Vol. II, p. 408, no. 407 was in the collection of Mr. and Mrs. Rafi Y. Mottahedeh.
David Sanctury Howard, Chinese Armorial Porcelain, Volume I, p.234 for a discussion of the family and arms.
(Ref: NY10252-crkr)
Dimensions
22.86cm diameter
The BADA Standard
Since 1918, BADA has been the leading association for the antiques and fine art trade
Members are elected for their knowledge, integrity and quality of stock
Our clients are protected by BADA's code of conduct
Our dealers' membership is reviewed and renewed annually
Bada.org is a non-profit site: clients deal directly with members and they pay no hidden fees
Click here for more information on the BADA Standard