BADA Chairman Michael Cohen and Secretary General Mark Dodgson recently had the privilege of attending the annual prize giving day at West Dean College, the world-renowned centre for the study of conservation and the creative arts.
The pair enjoyed the opportunity to view the College's open workshops where Conservation and FDA Historic Practices students displayed examples of their craft and were on hand to discuss their work with guests.
BADA, through the charitable work of the BADA Cultural & Educational Trust, plays an active role in supporting West Dean's conservation and restoration courses and we are delighted to announce the recipients of this years BADA Geoffrey Moss Prizes with extracts from the citations read out at the prize giving ceremony:
Derrin Compton (Graduate Diploma Conservation of Ceramics) Derrin has demonstrated a natural talent for conservation and an impressive work ethic throughout the academic year, always willing to engage with advice and able to assimilate information quickly.
Eliott Colinge (MA Conservation of Clocks) Throughout the year Eliott shared both his time and his knowledge with students both within his specialism of clocks and with those in other disciplines. The sharing of his skills in Computer assisted drawing and his science research has been very much appreciated.
Kasey Morning (MA Conservation of Metalwork) Kasey has undertaken a variety of interdisciplinary projects. Thanks to her enthusiasm and communication skills these have led to collaborations resulting in stable and sound treatments of objects including a range of materials such as leather, wood and textile.
Charles Wilding (pictured bottom right - FdA Historic Craft Practices - Furniture) A multi - talented craftsman, who came to this college well prepared and as such delivered good and consistent work throughout his second year. With advanced research and writing skills, a good eye for detail and colour, a strong sense for composition of materials, he was not deterred from taking on challenging objects.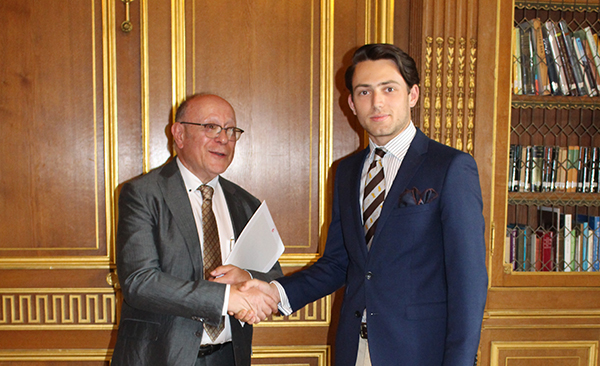 The recipients of the BADA Harold Davies Prize were:
Amanda Berg (pictured top right - MA Conservation of Ceramics) Over the academic year Amanda has delivered several particularly challenging projects from bonding badly damaged bone china animals to treating a reverse-painted glass panel.
Dale Sardeson (FdA Historic Craft Practices - Clocks) The range of practical projects has been very challenging and has been approached with a consistently high level of professionalism. Dale has applied himself fully to every new challenge resulting in an ability to competently apply his skills in new areas.
Arian de Goede (FdA Historic Craft Practices - Furniture). Highly motivated and self-guiding, very rarely do you come across an individual like Arian, who not only knows how to use his time well, but also how to appreciate the fruit of his labour and to progress.
Serpil Caliskan (Graduate Diploma Conservation of Metalwork). Always bringing good spirit and a smile into the workshop Serpil has shown herself to be a keen learner, clearly enjoying working with a range of metals and techniques, as well as applying scientific analyses to conservation.
On behalf of all our members BADA would like to wish our award winners every success in their future endeavours, and we look forward to watching them progress with their careers in restoration and conservation.