You may recall that as part of the BADA Friends continuing commitment to supporting all aspects of the art and antiques community, the charity helped to fund Billy Cave, one of 14 inaugural ceramics students enrolling at the newly opened Clay College Stoke.
Founded in 2017, Clay College's mission is to teach practical pottery techniques to an international standard, develop highly-skilled makers, and to protect the renowned status of British studio ceramics.
Two years on we are delighted to announce that Billy has successfully completed his diploma course, and the graduating class was celebrated with a showcase of their diverse and vibrant ceramics at Downstairs at the Department Store, Brixton earlier this month.
Billy explains the philosophy that inspires his work, saying: "I think that when something has been made with care and a sensitivity to the material, the finished piece has qualities to it that a machine produced product can never possess.
"My work is produced in stoneware clay with wood ash glazes fired in a reduction atmosphere. This gives the clay a toasty colour and makes the wood ash subtly different shades of blue to green, depending on the minerals that the tree drew from the soil.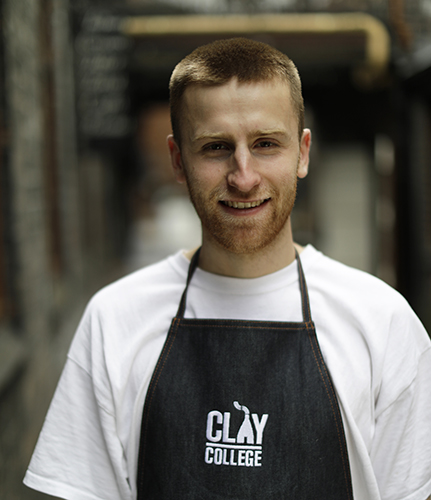 Billy also outlined how the diploma course has helped his development as an artist, adding: "The course has been fantastic, covering the entire process of making pots.
"For each project that I worked on, the College brought in a visiting potter whose career centres around that specific area of expertise. Each one homed-in on the detail of one area, and yet collectively gave a very wide view of what is possible within pottery.
"I leave the course with both a skill and an interest that I intend to work with for the rest of my life. I find great comfort in having a clear sense of direction and I have BADA Friends to thank for it."
To find out more about Clay College click here
For more information on the adopt a potter programme click here