BADA 2019 opens its doors to the public on Wednesday 20 March at Duke of York Square, Chelsea and as the excitement builds, we are delighted to announce the winners of the BADA 2019 Best Stand awards.
The prestigious awards are judged by an independent panel of experts representing the worlds of fine art, interior design and the art media: Lara Wardle, Director Curator of the Jerwood Collection, Mike Fisher, Creative Director at Studio Indigo, Giles Kime, Interiors Editor at Country Life, Dr Jason Cleverly, BA Course Leader in Furniture and Product Design at Chelsea College of Art and Andrew Molyneux, Director of TM Lighting.
There were four award categories available this year with judges asked to assess fair exhibitors for best use of lighting, best showcase display, best individual object and the highly-coveted best stand award. The judges were given a private tour of the fair on Tuesday afternoon before reconvening in the Pantry to make their final decisions.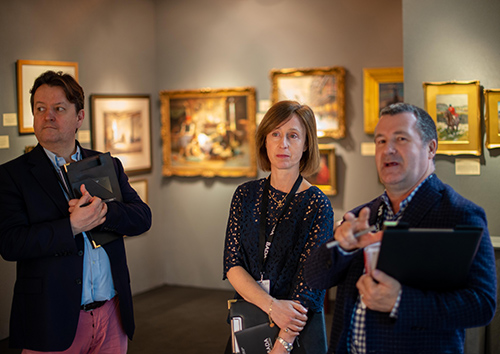 The best showcase display award was given to Derbyshire based dealer Beedham Antiques who specialise in English and Continental oak furniture and works of art. The judges were particularly impressed with the use of bold eye-catching colours to contrast the intriguing selection of objects on Stand D16, which include a Bath stone dragon head from the roof of the Henry VII Lady Chapel at Westminster Abbey and an imposing late 16th century carved walnut Griffin.
Our judges agreed that the best lighting category should go to Haynes Fine Art who can be found on Stand A19, exhibiting a broad range of paintings, drawings and sculpture from the 18th to the 21st century. Works on display include a pencil sketch by Edgar Degas, two views for a mother and child sculpture by Henry Moore, and an ornithological study of a moorhen by JMW Turner, with the judges agreeing that the lighting added a sense of drama to the works on display.
Competition was particularly strong for the best object award with the panel giving an honourable mention to an unusual late 18th century primitive Windsor chair from Wakelin & Linfield on Stand A2. The chair boasts a particularly huge seat, which is raised on four faceted cut legs, united by an 'H' stretcher. 
The panel unanimously agreed to present the best object award to Witney Antiques superb mid-17th century bead-work basket on Stand D1. Dated circa 1661, the basket was probably made to celebrate an engagement or betrothal, and depicts a noble couple, the woman proffering a posy of flowers, while the man doffs his hat.
Not surprisingly, the Best Stand award was another keenly contested category and the judges reserved special praise for the imaginative Georgian Print Room setting from Isaac and Ede on Stand D4. However, the Best Stand award was given, by unanimous verdict, to Godson & Coles on Stand C25. The judges were particularly impressed by their use of striking paintings by modern British artists, sensitively juxtaposed with 18th and early 19th century furniture and works of art.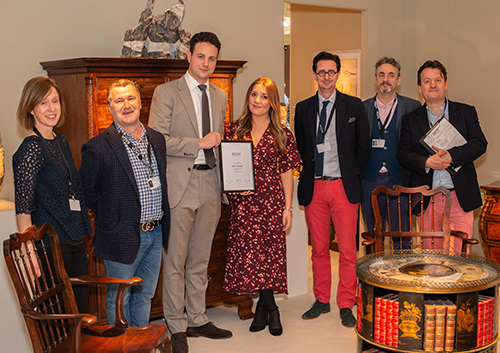 You can judge for yourself and see if you agree with our panel's decisions when BADA 2019 opens to the public from 11am on Wednesday 20 March at Duke of York Square on the King's Road
Click here to book your tickets
Images courtesy of BADA 2019's photography partner AC Cooper