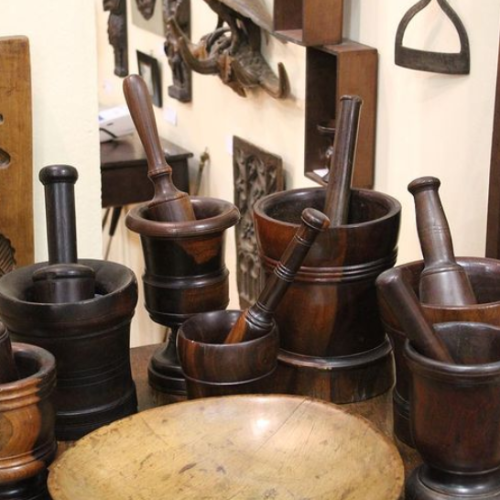 The term treen is derived from the old English word trēowen, meaning "of the tree" or to put it in more simple terms, wooden. In the antiques trade it is the collective name used to describe handmade functional items which are made predominantly from wood.
From the earliest civilizations until the birth of the Industrial Revolution wood was the major raw material used in the production of most objects. This was due to its durability and versatility as a medium, as well as the prolific abundance of material available and its inexpensive cost.
Prior to the introduction of materials such as pewter, silver or ceramics in the late 17th century, most household items such as bowls, cups, goblets, plates, pots, and boxes were fashioned entirely from wood.
Although wooden furniture is not classed as treen, the term does encompass a multitude of practical everyday household objects ranging from washboards, rolling pins and gingerbread moulds to more decorative pieces like cribbage boards, love spoons and snuff boxes.
The woods used in the manufacture of treen depend largely on the region of production so British examples are commonly fashioned in native woods such as beech, sycamore, walnut, and oak, although fine pieces can be found in more exotic species like rosewood or lignum vitae.
Unlike most popular antiques, items of treen are rarely marked or signed so next to nothing is known about their makers, other than objects were usually produced by local carpenters, cabinetmakers and wood turners.
Over time and when treated with love and care household items of treen build a patina, which is the term given to the rich gloss or changes in texture or colour on an objects surface created by age, everyday handling, or polishing.
By contrast items of everyday use such as kitchen tools, candle holders or baking equipment were usually waxed rather than polished and can now be stained, chipped, and even scorched, all of which adds to their rich character.
Click here to view our treen collection on the BADA website.