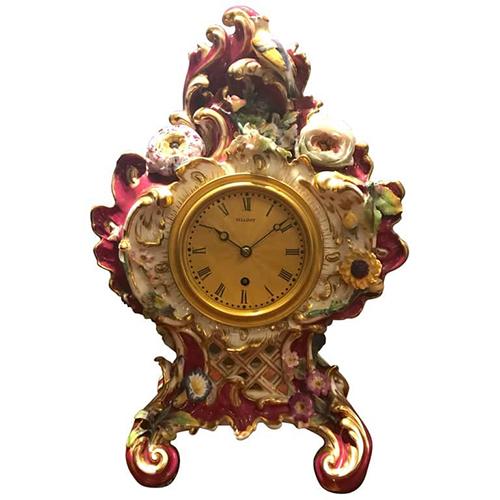 Although originally from Switzerland, the Vulliamy family achieved renown as one of Britain's finest makers of clocks and watches in the 18th and 19th century.
Family patriarch Francois-Justin Vulliamy (known as Justin) was born in 1712 in the Pays de Vaud region of Switzerland. The area is sandwiched between Lake Neuchâtel to the North and Lake Geneva to the South, and at the time was already synonymous with high quality watchmaking.
After a spell making watches in Paris, Justin moved to London and joined into partnership with Benjamin Gray in 1743. That same year Gray obtained the Royal Warrant as Watchmaker in Ordinary to King George II, so it was clear from the outset that the firm had a formidable reputation.
The partnership was strengthened further in 1746 when Justin married Benjamin's daughter Mary Gray. In 1752 the firm took up premises in Pall Mall which were handed on to Justin upon Benjamin Gray's death in 1764 and remained Vulliamy's headquarters for close to a century.
Aside from watch and clockmaking, Justin took an active role in the Swiss expatriate community and was instrumental in establishing the Swiss Church in London. Founded at rooms in Castle Street, Leicester Fields, the church became both a spiritual home and a centre for assisting poor Swiss folk living in London.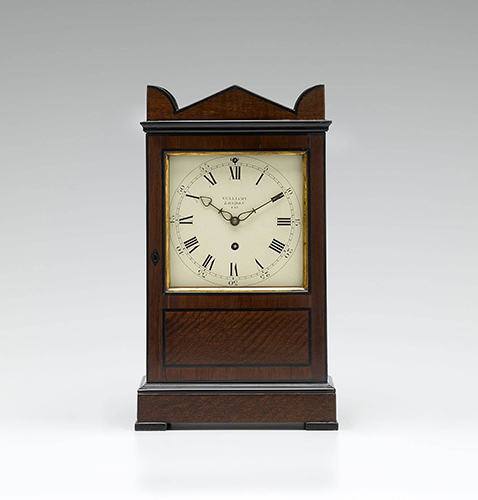 Justin presented a clock to the original church which now resides in the vestibule of the Church's present location at Endell Street, London. The Endell Street church, which fittingly was designed by Justin's grandson, the architect George John Vulliamy, also bears a plaque dedicated to the "Memory of its Founder, Francois Justin Vulliamy".
Justin and Mary had four children, Jane (born 1743), Benjamin (born 1747), Lewis (born 1749) and Mary (born 1750). Eldest son Benjamin showed a keen interest in clockmaking from an early age and quickly earned a reputation as a maker of fine mantel clocks, becoming a freeman of the Clockmaker's Company in 1781.
His talents were spotted by King George III who awarded Benjamin a Royal Warrant as King's Clockmaker, together with an annual stipend of £150. Although the King took a keen interest in watches and regularly patronised his father Justin, Benjamin was the first Vulliamy to be given this honour.
This Royal patronage led to a major commission for Vulliamy & Sons in 1780 as the family firm were invited to build the Regulator Clock for the King's Observatory at Kew Garden. The clock was responsible for the official London time for more than a century, until 1884 when the role of official timekeeper was handed to the Greenwich Royal Observatory. 
Vulliamy's success came from their ability to combine artistic excellence with the very latest in technological advancements. By partnering with eminent sculptors and artists the firm were able to make beautiful creations in materials such as porcelain, marble, and ormolu. These pieces were as much admired for their artistry as they were for their precision.
Another mark of the Vulliamy's peerless reputation came in 1793 when one of their clocks was selected as a gift to be presented to the Qianlong Emperor, during The Earl McCartney's ultimately unsuccessful attempt to open trade routes with China.
In 1797 Justin Vulliamy passed away and Benjamin took solo charge of the family business for a short time, before partnering with the eldest of his 14 children Benjamin Lewis Vulliamy (born 1780). Throughout his life, and from an early age, young Benjamin was an enthusiastic scholar on the theory, history, and practice of horology. He was able to put these learnings into practice making clocks that ensured Vulliamy further cement their reputation as a household word in horological excellence.  
As an apprentice to his father, he often accompanied Benjamin Snr on his regular meetings with King George III at Kew, and as such became an acquaintance of the younger members of the royal family. This relationship would serve Vulliamy & Sons well, ensuring they retained the Royal Warrant as Clockmakers to King George IV, King William IV, and Queen Victoria. 
In turn, this royal endorsement opened doors to aristocracy and nobility. Indeed, a passage in Benjamin Lewis' obituary reads, "there has rarely been an instance of a man engaged in trade being admitted to such intimate communication with so many of the nobility." 
Consequently, the company supplied many clocks to government offices and Royal Palaces during his tenure at the helm. One notable example being a magnificent gilt bronze, silver and lapis lazuli mantel clock for the Royal Pavilion at Brighton which is currently housed in the Royal Collection.
Made a freeman of the Clockmakers' Company in 1809, Benjamin Lewis served as Master of the Company on five occasions and was instrumental in contributing to the development of the association's library and museum collections.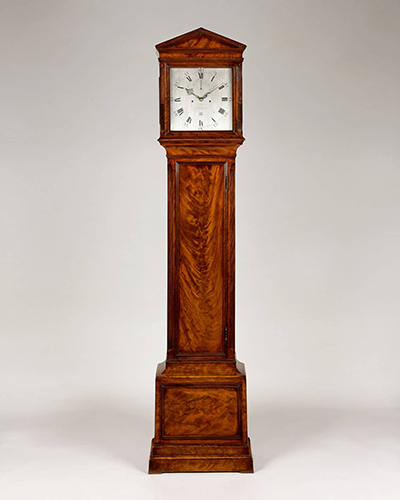 Where his father and grandfather had specialised in mantel clocks and watches respectively, Benjamin Lewis' main passion was the turret clock. Amongst his many notable turret clock commissions include Windsor Castle, Christ Church Cathedral, Oxford, and the General Post Office building at St Martin's-le-Grand, London, sadly demolished in 1911.
What should have been the pinnacle of Benjamin Lewis's career came when he was approached by Sir Charles Barry to design a turret clock for the Elizabeth Tower (commonly known by the name of its famous bell, Big Ben) at the new Palace of Westminster.
He is said to have devoted all his time to the project, which he considered to be the greatest monument of his personal art. Even the plans for the tower, by architect Augustus Pugin, took inspiration from Vulliamy for the design of the hands.
However, in a devastating blow for Benjamin Lewis the tender was awarded to competitor Edward John Dent in 1852. According to his obituary, Vulliamy's "feelings on the subject were painfully acute; but the mortification he experienced, was greatly alleviated by the kind expressions of sympathy elicited from almost all the eminent clockmakers of Great Britain and of the Continent, by whom he was universally esteemed and respected."
In his later years Benjamin Lewis suffered badly with Bronchitis and passed away in 1854, a few weeks short of his 74th birthday. Since neither of his sons had followed him into the family business, Vulliamy's death signalled then end of one of Britain's greatest clockmaking dynasties.
Click here to a view a selection of Vulliamy clocks currently available from BADA members.