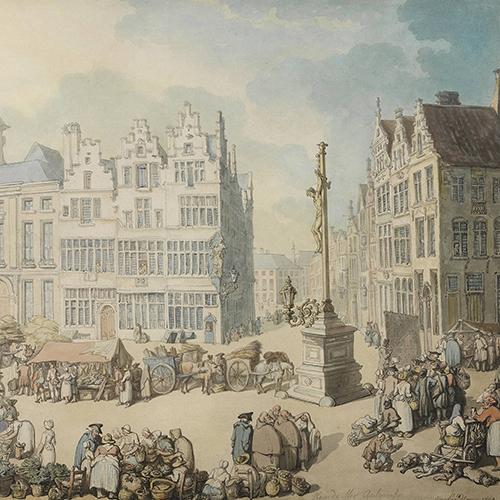 A prolific artist and printmaker, Thomas Rowlandson is best known for his brilliant and often savage satirical caricatures, which lampooned both the wealthy elite, and the working man with equal intensity. Nearly 200 years after his death, Rowlandson's extensive body of work offers a remarkable and unrivalled insight into the characters and culture of contemporary Georgian Society.
Thomas was born in 1757 in Old Jewry, a street at the heart of the City of London's financial centre, located a stone's throw from the Bank of England on Threadneedle Street. His father William Rowlandson, a weaver and textile merchant, was declared bankrupt just two years after his son's birth and Thomas and his sister were sent to live with his Uncle James and Aunt Jane in Soho.
Rowlandson was sent to study at Dr Barwis' academy in nearby Soho Square, where it is said that he learned to draw before he could write. By the age of 10, young Thomas was spending all of his spare time drawing and his schoolbooks were filled with humorous sketches of his masters and fellow pupils.
Recognising his precocious talent, Rowlandson was accepted into the Royal Academy School from age 15. Unusually, he resisted encouragement to work in oils; drawings and etchings being his preferred medium. In all, Thomas spent six years at the Royal Academy, punctuated by a spell in Paris, where he studied the human figure and perfected his talent for caricature.
As a rule, Rowlandson's works were usually drawn in outline with a reed-pen before washing in colour. Thomas would then etch the design onto copper which would be aquatinted by a professional engraver, and then hand coloured to finish.
From 1775 onwards he exhibited pictures and caricatures in pen and wash at the Royal Academy, notably collecting a silver medal in 1777 for a bas-relief figure. That same year Thomas opened a studio in Soho's Wardour Street, where he established a reputation as a gifted portrait painter. The funds raised from this venture helped finance a series of visits to the continent, where Rowlandson enriched his portfolio with sketches of his travels.
His growing notoriety was enhanced seven years later, as Thomas achieved wide acclaim for his ambitious watercolour "Vauxhall Gardens", exhibited at the Royal Academy in 1784 and currently in the collection of the V & A Musuem.
The artwork is a vibrant depiction of an alfresco concert at the popular Vauxhall pleasure gardens. Amongst the notable society figures portrayed are The Prince of Wales, later King George IV, Samuel Johnson, author of "A Dictionary of the English Language", and the celebrated biographer James Boswell.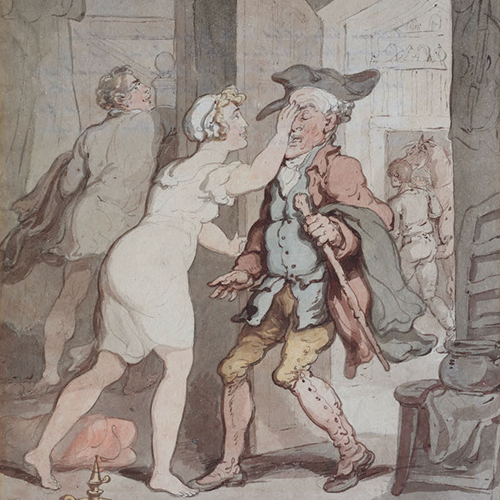 Encouraged by his close friends and contemporaries James Gillray and Henry William Bunbury, Rowlandson abandoned much of his portrait work during the 1780s and focussed on satirical caricature for his main source of income. Among many topical targets of the time were Prime Minister William Pitt the Younger, the coalition government of Charles James Fox and Lord North, and the scandalous transgressions of the Prince of Wales. These images often provoked criticism, with some of his detractors unfairly labelling Rowlandson's work, "coarse and indelicate."
Having lived with his now widowed Aunt Jane throughout this period, Thomas' fortunes took a turn in 1789 when his aunt died, leaving him a significant legacy of £7,000. He did not use the money wisely, preferring to revel in all the excesses that Georgian London had to offer, indeed Rowlandson was known to spend up to 36 hours at the gaming-table in one sitting!
Heavy gambling losses saw Thomas' circumstances reduced to such an extent that he was forced to take a series of increasingly shabby rooms around London's Strand district. He also increased the range of his work to help pay off mounting debts, taking commissions as a book illustrator for the novelists Henry Fielding, Oliver Goldsmith and Laurence Sterne. Rowlandson's gambling obsession was so severe that it would at times impact on the quality of his work. The fact that he produced more than 10,000 prints and drawings during his lifetime has more to do with his need to settle debts than his passion for the craft.  
Although he worked for many publishers, it was the art publisher Rudolph Ackermann who kept Rowlandson in near continuous employment from 1798 onwards. Ackermann capitalised on Thomas' artistic versatility commissioning him to produce historical genre pictures, drawings in the manner of the Old Masters, pastoral landscapes, and even erotic prints, all in addition to his trademark satirical caricatures.
Rowlandson's most celebrated work during this period was his collaboration with the writer William Combe. Combe wrote a comic poem "The Tour of Dr Syntax in the Search of the Picturesque", which satirised the English artist and cleric William Gilpin's tours of Britain and his theories on the aesthetic ideal. The poem was serialised in Rudolph Ackermann's "The Poetical Magazine", with illustrated colour plates by Rowlandson, and proved a runaway success.
Demand for the publication was so high that Ackermann collected the serialisation together as a book in 1812 and was forced to issue a total of five print runs in the first year alone. Two sequels followed in 1820 and 1821, and the Dr Syntax character proved so popular that it became the first to be marketed in merchandised form, with mugs, figurines, puppets, hats and even wigs offered for sale. Significantly, the quality of Thomas' amusing illustrations also helped Dr Syntax become the first cartoon character to be translated for the overseas market.
Despite his financial struggles, Rowlandson remained in good health and continued to work late into his life, passing away in 1827 at the age of 69. He was buried at St Paul's Church, Covent Garden, where fellow artists J.M.W. Turner and Thomas Girtin are also interred. A blue plaque celebrating his contribution to the arts was erected on the site of his former home at 16 John Adam Street, Charing Cross in 1950.
Often grotesque and at times obscene, Thomas Rowlandson's caricatures were considered a little too provocative for Victorian sensibilities, but his work has found a new audience and remains much in demand amongst 20th and 21st century collectors. A fitting epitaph for one of Britain's finest graphic artists and a father of the modern cartoon and comic strip genre.
Click here to view a selection of available Rowlandson works from BADA members