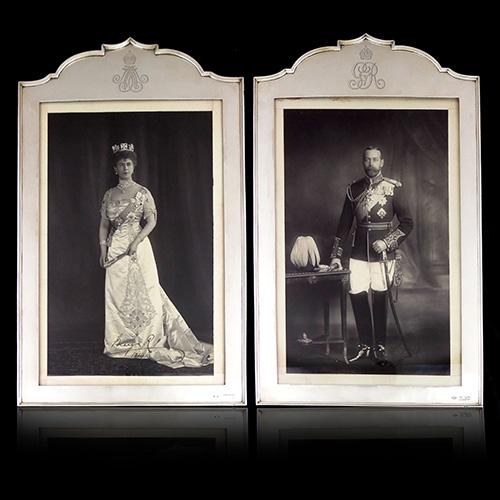 Like many traditions of our modern monarchy, the idea of producing Royal presentation photographs was introduced by Queen Victoria and Prince Albert.
An enthusiastic patron of science and technological innovation, Prince Albert was fascinated by the new daguerreotype style of photography, introduced in the late 1830s and named after its French inventor Louis Daguerre.  
One of the first British photographers to seize on its potential was the inventor and entrepreneur William Constable, who secured a license to produce daguerreotype portraits at his Brighton Studio in 1841.
A few months later, Constable had the honour of hosting Prince Albert at his 'Photographic Institution' on Marine Parade. The resulting 1842 portrait is the first photograph taken of a member of the British Royal family and can now be seen in the Royal Collection.
Prince Albert's patronage helped elevate The Photographic Institution to one of the most popular attractions in the fashionable seaside resort. Over the next decade, Constable would capture countless nobles, aristocrats and the great and good of London society.
Throughout the 1850s and 60s, Victoria and Albert commissioned the leading photographers of the era. Their albums not only depict members of the Royal Family, but also Windsor Castle, staff and members of the Royal household, and even documents news events, such as the war in Crimea.
In 1860, John Jabez Edwin Mayall, who had won acclaim at Prince Albert's Great Exhibition in 1851, was invited to photograph the Royal Family. Mayall produced a number of relaxed, affectionate portraits intended for the family's private albums. 
A popular pastime of the period was the collection of cartes de visite, which were a Victorian form of collectable trading card featuring images of public figures and celebrities. Mayall was also granted permission to take a series of more formal images to be used as cartes de visite, which he released in the form of a Royal Album.
The Royal portraits were so popular that Mayall was able to command an annual income of £12,000 from their sale. Accounting for inflation, that would be an annual income today of more than £1.8 million!
Demand surged again when Prince Albert tragically succumbed to typhoid fever in December 1861, with more than 70,000 portraits ordered within a week of the Prince's passing.
The Royal Photography Collection started by Victoria and Albert continues to grow today and is housed in the Round Tower at Windsor Castle. From a single daguerreotype taken nearly two hundred years ago, the collection has now grown to in excess of 450,000 images.
Click here to view a collection of Presentation Photographs currently available from BADA Members