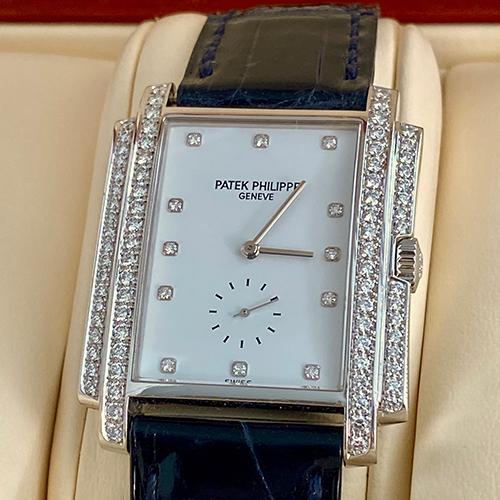 Beloved by celebrities, sportsmen and the super-rich, Patek Philippe is one of the most iconic brands in luxury watch and clock making. Their beautiful and highly sought-after designs have been worn by such luminaries as Her Majesty Queen Elizabeth II, US President John F. Kennedy, and celebrated physicist Albert Einstein. 
Although the company has always been based in Geneva, its origins are firmly rooted in Poland, where co-founder Antoni Patek was born in 1812. At age 15, young Antoni enlisted with the Polish 1st Mounted Rifles Regiment. Two years later he saw action in the November Uprising, as a militia of young patriots took up arms against the rule of the occupying Russian Empire. Patek was wounded twice in the conflict and was decorated with the honour of the Virtuti Militari Golden Cross for his valour on the battlefield.
Ultimately the might of the Imperial Russian Army proved too strong for the Polish resistance and by October 1831 the uprising had been crushed. As Tsar Nicholas I sought to punish the insurgents, many officers of the Polish Army were forced to emigrate. Antoni was engaged by the Polish national hero, General Józef Bem, to oversee a stage of the evacuation route which would eventually guide escapees to safety in France.
Patek briefly settled in France himself, finding work as a typesetter, but was forced to move on two years later after Russia pressured the French to expel their Polish emigrees. He found a new home in Geneva, Switzerland where he found work in the wine trade and studied painting under the Swiss landscape artist Alexandre Calame.
Although Geneva was already famed for its exceptional clock and watchmaking trade, Patek spotted an ingenious gap in the market. He set about buying up quality watch movements and engaged the finest local engravers, goldsmiths, and enamellers to create cases for them. By making the watch cases a work of art in themselves, Antoni quickly found a niche market for his unique and beautiful creations.
On May 1st, 1839, Antoni entered into a six-year partnership with fellow Polish emigree and master watchmaker Franciszek Czapek, under the trading name Patek, Czapek & Cie. Many of the company's early watchmakers were also Polish and invested into the firm's success with their own money. Perhaps not surprisingly, much of their output was also influenced by their Polish heritage with early themes including revolutionary heroes, folk legends, and religious iconography.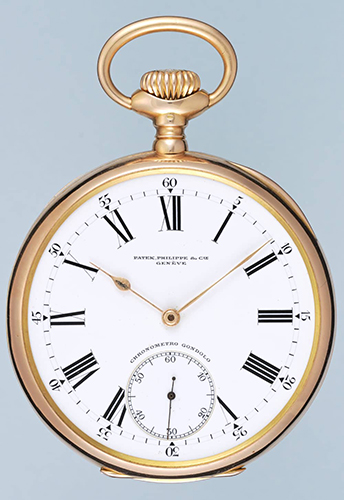 Employing a dozen workers, Patek, Czapek & Cie were able to produce around 200 watches a year, and from the few surviving examples it is clear that the technical precision and artistic detail were of a very fine quality. Unfortunately, tensions between the two founders proved too great and the partnership was dissolved in 1845, with Franciszek enjoying continued success with his new firm Czapek & Co.
Antoni reformed the company under the guise of Patek & Co. but had already discovered a new partner that would take the business to unheralded heights. In 1844 Patek had travelled to Paris to attend the French Industrial Exposition and it was here that he met 29-year-old French horologist Adrien Philippe. Philippe had collected a Bronze Medal at the fair for his keyless winding mechanism, a remarkable innovation that enabled watches to be wound and set by a crown instead of a key.
Following the departure of Czapek, Patek invited Philippe to become head watchmaker at Patek & Co in an eyewatering deal that would secure Adrien one third of all company profits. With Philippe driving innovation and excellence at the workshop, Antoni was given freedom to travel, marketing the burgeoning brand throughout Europe and even to North America. The company philosophy was shaped by both partners profound belief that excellence was integral to every element of the business. An ethos that would serve them well over the coming decades.
As one of the most widely renowned watchmakers of his time, Adrien was elevated to full partner status in 1851 as the brand became Patek Phillipe & Co. Equally important that year was the firm's involvement in the Great Exhibition at Hyde Park, London.  To celebrate the event, Patek Philippe presented Queen Victoria with an open face keyless winding watch, named after the British Monarch. As one of the most powerful and influential people of her time, Victoria's patronage would greatly enhance the company's standing.
Patek Philippe's reputation for innovation was further supplemented in 1868 with the first Swiss wrist watch, which was designed and created for the Countess Koscowicz of Hungary. Before long. the firm's remarkable timepieces could be seen adorning the wrists of royalty and nobility throughout Europe.
Throughout his life, Antoni continued to play an important role in the exiled Polish Community and was influential in assisting refugees escaping to Geneva after the January Uprising against the Russian Empire in 1863. His work for the Polish people and the Catholic Church was recognised by Pope Pius IX who awarded Patek the title of Count. Coincidentally Pope Pius was also a client of the company.
Antoni passed away at the age of 65 in 1877 and his only son Leon opted not to join the family business, so his role at the company went to Adrien's son in law Joseph Antoine Bénassy-Philippe. Adrien himself would retire a decade later, handing his share of the business on to his youngest son Joseph Emile Philippe, and the new owners changed the firm into a joint stock company in 1901.
Innovation and excellence remained at the company's core with a series of fresh patents keeping Patek Philippe ahead of their competitors. These included the perpetual calendar for pocket watches in 1889, the double chronograph in 1902, the split-second chronograph wristwatch in 1923 and the perpetual calendar wristwatch in 1925.
Like many luxury brands, Patek Philippe were badly affected by the Great Depression and its impact on global markets, and the firm were forced to look for outside investment. This came in 1932 in the form of brothers Charles and Jean Stern, who had been partners of Patek Philippe as a supplier of watch dials. The Swiss Stern family continue to own the company to this day, making Patek Philippe the last family-owned watch manufacturer in Geneva.
Today, more than half of the top ten most expensive watches sold at auction worldwide are Patek Philippe creations. Ironically, several of these were purchased by the company themselves and form part of the extraordinary collection of watches and clocks housed at the Patek Philippe Museum in Geneva. Not just dedicated to the company's finest pieces, the museum also hosts a collection devoted to 500 years of clock and watchmaking history, a must-see experience for any serious horological enthusiast. 
Click here to view examples currently available from BADA members.