A prodigious talent, Michael Ayrton is best known as a painter and sculptor. Yet in his short, three decade-long career, Ayrton's oeuvre encompassed so much more, from novel writing, stage design and book-illustration, to broadcasting and documentary filmmaking.
Born in London in 1921, Michael Ayrton Gould was the son of the Observer literary critic, writer and poet Gerald Gould, and future Labour Party Chair and MP for Hendon North, Barbara Ayrton-Gould. Political activism was a strong thread in Ayrton's family line and perhaps the reason why Michael chose to work professionally under his mother's maiden name, rather than his given surname of Gould.
His grandmother, the engineer and mathematician Hertha Ayrton was heavily involved in the Women's Suffrage movement. Hertha was a member of the delegation that marched with Emily Pankhurst to meet Prime Minister Herbert Asquith in 1910, resulting in a shameful and brutal attack on the peaceful protesters which became known as 'Black Friday'.
His mother Barbara was a suffragette too, notably serving prison time for smashing shop windows in London's West End as a form of non-violent direct action. In 1914, she and husband Gerald were among the co-founders of the United Suffragists movement, which would eventually help push the Representation of the People's Act through Parliament in 1918.
In addition to his family's direct influence, young Michael grew up surrounded by the great and good of London's literary, fine art and political society, of which his parents were very much at the epicentre. Unsurprisingly, he developed an understanding of painters, painting and the cultural arts far beyond that of his youthful contemporaries.
Described by his own biographer as conceited and belligerent, young Ayrton was expelled from school in London at the age of 14 for seducing his French teacher. As a result, he was educated independently in Paris, where he developed his skills as a painter in the Neo-Romantic tradition.
His studies in Paris were interrupted by the outbreak of the Spanish Civil War in 1936 and like many artists and writers, the young idealist travelled to Barcelona to enlist with the International Brigades. Despite witnessing some of the Siege of Barcelona at first hand, Michael was rejected by the Republican forces as he was still only 15 and too young to enlist.
To avoid further danger, his mother Barbara had him sent to study with relatives in Vienna. He continued his education back in London first at the Heatherley School of Fine Art and later at St John's Wood Art School, where he befriended the painter, John Minton. 
Although four years his senior, Ayrton's knowledge of the art world was far superior at the time and the two furthered their studies by taking a studio together in Paris in the summer of 1939. Here they developed their Neo-Romantic style, inspired by the work of artists Eugène Berman and Pavel Tchelitchew.
Ayrton's artistic evolution was interrupted again by the outbreak of war in Europe, and he returned to London, enlisting with the Royal Air Force. During time on leave from the service, he collaborated with Minton on designs for Sir John Gielgud's 1942 production of Macbeth. Michael seems to have left a lasting impression on the acclaimed thespian, who described Ayrton as "ungraciousness of manner and lack of charm."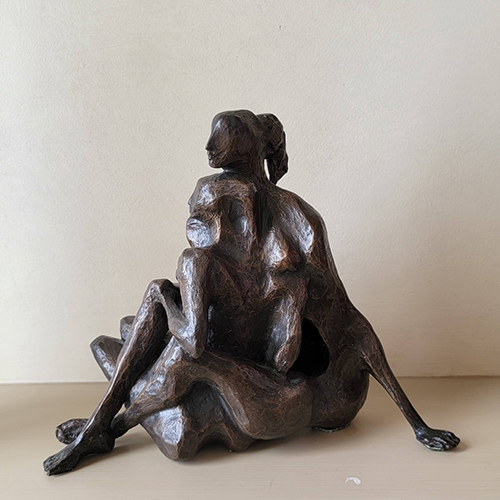 Michael was invalided out of the RAF in 1942, the beginning of severe health issues that would plague him through his later life. However his notoriety grew significantly that year as he was invited to participate in the radio programme, "The Brain's Trust". A panel show which debated any questions submitted by the audience. The Brain's Trust was one of the BBC's most popular programmes, generating an audience of more than 12 million at its height, with more than 4,000 questions submitted every week.
Regularly adopting the role of resident agitator, this was the ideal platform for Ayrton's forthright and often controversial opinions and propelled the young artist into the national spotlight. Although, he continued to paint, and design for theatre, his radio role brought Michael work in a new field as art critic for the Spectator from 1944-46.
In 1946 he published his first written work on British Drawings, and continued to write throughout his life, initially on British Art, before publishing his first novel, entitled 'Tittivulus or The Verbiage Collector' in 1953.
A year earlier, Ayrton married his wife Elizabeth a graduate of Newnham College, Cambridge and every bit his intellectual equal. Although the pair would often argue vehemently over a broad variety of subjects, their passion and mutual respect would drive both on to greater achievements.
Ayrton motivated Elizabeth to achieve success as a novelist and writer on cookery, while his wife encouraged Michael's unfulfilled ambitions in sculpture. Having travelled widely throughout Greece and the Mediterranean, Ayrton took inspiration from mythology, in particular the tales of Daedalus, Icarus, Talos and the Minotaur, themes that would recur throughout his later work.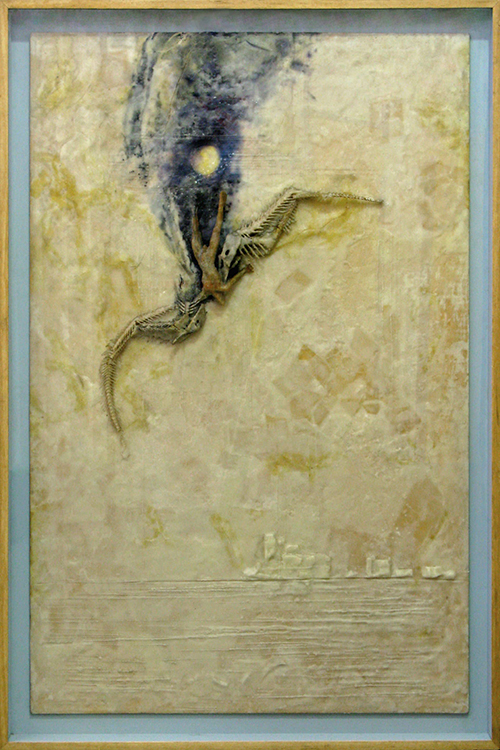 This was the basis of his most successful novel The Maze Maker, published in 1967. The book is a fictional autobiography of Daedalus, who in Greek mythology designed a vast labyrinth for King Minos, indeed Ayrton suggested that the book was dictated to him by Daedalus himself. 
This resulted in the creation of Ayrton's most ambitious work, a gigantic maze built for the eccentric U.S. millionaire and philanthropist Armand G. Erpf. Built on Erpf's property at Arkville, New York State, the maze consisted of 1680 feet of stone pathways, surrounded by eight-foot-high brick walls. The two central chambers contained seven-foot bronze sculptures of the Minotaur, Daedalus and Icarus. The extraordinary labyrinth remains the largest built since classical antiquity. 
Tragically Ayrton died of a sudden heart attack in 1975. Aged only 54, he was still very much at the peak of his powers as an artist and at the time was working on an ambitious documentary for the BBC. He is buried at the village churchyard of St Botolph's, Hadstock, near his studio and family home of Bradfields in Essex.
His paintings and drawings can be seen at the National Portrait Gallery, and Tate Britain, and an excellent collection of his works is on display at the Fry Art Gallery, Saffron Waldon. Visitors to Cambridge can also enjoy his imposing sculpture of the giant automaton Talos which stands watch at Guildhall Street, while casts of Ayrton's statues of the Minotaur and Icarus can be found at London's Barbican, and nearby Old Change Court.
Click here to view a selection of works by Ayrton currently available from BADA members.