Although perhaps best known for his poetry and limericks, such as 'The Owl and the Pussycat", the author Edward Lear was also a very accomplished artist and illustrator. A prodigious sketcher throughout his frequent travels, Lear's landscapes of Italy, Egypt and India are now as cherished as his literary legacy.
Edward was born in May 1812 in the North London suburb of Holloway and was the 20th of 21 children born to Ann and Jeremiah Lear. His father Jeremiah was a stockbroker by trade, but the family's finances were seriously impacted by the economic consequences of the Napoleonic Wars, indeed Lear suggested that at one time his father was interred in a debtor's prison. 
As a result, Edward, along with his eldest sister Ann, were forced to leave the family home when he was just four years old. 20 years his senior, Ann took great care of her young sibling and would continue to act as a mother to Edward far into his adult life, although sadly the prolonged separation would severely damage Lear's relationship with his own mother.
Edward was a sickly child, struggling with bronchitis and asthma from an early age, he also suffered frequent epileptic seizures from the age of six onwards. The condition caused him great personal embarrassment and is thought to have been a contributing factor to regular bouts of depression throughout his life, which Edward labelled "the morbids".
Life may have been a struggle for young Lear but painting and drawing gave him an artistic outlet for his frustrations and by age 16 he was already gifted enough to make a rudimentary living from his work. Edward was employed by the Zoological society of London as an ornithological draughtsman, becoming the first major artist to study and render birds in situ, rather than from skins. This gave his work a level of detail and energy superior to any of his predecessors.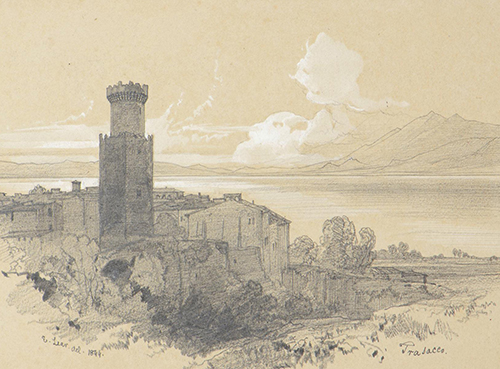 He published his first work, 'Illustrations of the Family Psittacidae, or Parrots' in 1830, aged only 19, and soon after accepted a four-year commission from the Earl of Derby to capture his private menagerie at Knowsley Hall. This 1836 graphite drawing of Levens Hall, Westmorland, currently in the British Museum collection, provides an ideal example of the attention to detail synonymous with the artist's earliest work.
The patronage of the Earl of Derby exposed young Edward to the circles of aristocracy and nobility, a class his troubled background could not have allowed him to access. This enabled him to sell his works to other wealthy patrons and afforded the up-and-coming artist a lifestyle he could not possibly hoped to lead in his earlier days. During this time, he also began to write limericks and nonsense poetry for amusement of his patron's children, this work became the basis for his first literary work, 'The Book of Nonsense', published in 1846.
Unfortunately for Lear, failing eyesight made it increasingly impossible for Edward to produce the level of detail for which his work had achieved acclaim, this would eventually lead to partial blindness later in life. Lear sought solace in travel and, with encouragement from the Earl of Derby, found a new artistic challenge creating topographical renditions of the classical architecture and sweeping vistas of Italy.
In 1842, Edward began a meandering journey of exploration in Italy that would take him from Lazio and the decaying splendour of Rome, all the way to Sicily and Calabria in the far South. Throughout his travels Lear produced prolific volumes of sketches and colour wash drawings from which he would later produce lavish watercolours and print illustrations for his books.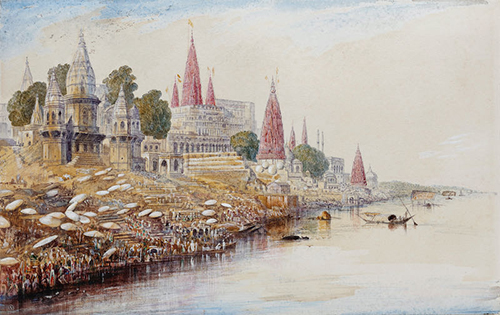 In addition to his visual record, Edward documented his travels in great detail producing journals on his impressions of landscapes and notable landmarks, together with notes on Italian culture, folk traditions, and the characters encountered on his journeys. These diaries became the groundwork for his first travel publications, 'Views in Rome and its Environs', published in 1841, and 'Illustrated Excursions in Italy' published in 1848.
Lear's publications proved extremely popular with an English audience that had, until recently, been restricted from European travel by continental conflict. His initial travel writings were followed by a three-volume series entitled 'Journal of a Landscape Painter', which began with a record of his tours of Greece and Albania, published in 1851, Southern Calabria, published the following year, and Corsica, published in 1870.
It is easy to understand the appeal of Lear's landscape paintings given that the joy of the artist is so prevalent in his works. Breath-taking vistas are captured with an effervescent palette juxtaposing warm golden stone structures with endless azure skies and verdant green flora, no doubt in stark contrast to the inner turmoil that so frequently plagued the artist's life. Perhaps one of the best examples of Lear's artistic energy and exuberance is this view of Florence from Villa San Firenze, now in the Government Art collection.
As he had received no formal artistic training, Lear returned to England in 1849 and enrolled in a course at the Royal Academy with the intention of refining his technique. Unfortunately, the British climate affected his health conditions and Edward vouched never to return to the UK permanently. However, he did forge a number of meaningful friendships during this period, including fellow poet Alfred Tennyson and his wife Emily, and the pre-Raphaelite painter William Holman Hunt.
Lear eventually settled in the town of San Remo on the North-West coast of Italy, residing at a villa he dubbed 'Villa Tennyson'. After a lengthy battle with ill heath, he died in 1888 and was buried at the nearby Cimitero Monumentale della Foce. Befittingly, his headstone bears the following stanza "With such a pencil, such a pen. You shadow'd forth to distant men, I read and felt that I was there." The lines are taken from Alfred Tennyson's poem to Lear entitled, 'To E.L., On His Travels in Greece'.
Click here to view a selection of Lear's works currently available from BADA members.