Figure 1. Small yokeback chair from a Liao tomb. China. 11th century. Nicholas Grindley LLC.
Figure 2. Classic yokeback armchair. China. circa 1650. Nicholas Grindley LLC.
Around 1000 CE, the seating customs in China changed from kneeling on the floor to sitting, with legs pendant, on chairs, stools and couches. China was the only country in East Asia where this became common practice before the modern period. Chinese and Western research has much to say about the transition to what was called hu chuang (in which hu means 'barbarian' or 'non-Chinese' and chuang means bed or couch), all of which suggests that the concept came from abroad.[1] Chairs depicted in wall paintings from the late Tang dynasty in Dunhuang (between 848 and 906) show deities seated on chairs or thrones draped with cloth, which obscured the construction of the chair, but small, low wooden chairs, often with painted decoration, were excavated from tombs  in the plains of Inner Mongolia and dated as early as the 11th century; the arid conditions allowed the wood to survive. The chair pictured, which was exhibited by Nicholas Grindley in 1995, features a curved top rail and horizontal back splat (the central element of the chair back) and is datable to the Liao dynasty, so between 907 and 1125 (fig. 1).[2]
The first known chair with a vertical splat, which is currently in the Nanjing Museum, was excavated in Julu county near Beijing from a house which was flooded in 1108.[3] Its design represents a radical progression from the previously mentioned Liao tomb furniture found in Mongolia: the seat is framed, the legs splay and thicken towards the bottom and decorative aprons span the front, foreshadowing the more familiar Chinese hardwood furniture from the 16th and 17th centuries.
By the end of the 12th century, Chinese tiles and paintings started featuring armless chairs with vertical splats and curved 'yokeback' rails. One especially famous example was in a handscroll titled Along the River during the Qingming Festival, showing diners seated in these chairs at a 'second-class restaurant,' indicating that they were in general use,[4] and a miniature wood chair excavated from the 1190 tomb of Yan Deyuan, in Shanxi Province [5] is the first reliably datable armchair of the Ming dynasty, which ran from 1368 to 1644.
By 1600, the Chinese chair with vertical splat had reached full fruition. In 1975, beside the coffin of Wang Xijue, who died in 1613, a group of miniature wood furniture, which included two continuous yokeback armchairs with vertical splats, was discovered undisturbed in a domestic arrangement.[6] The Chinese chair acquired its signature style of balanced and sophisticated simplicity a little later (fig. 2).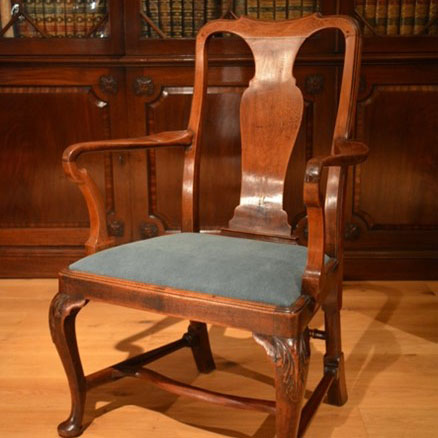 The 'India' Vertical-splat Chair in England
Figure 3. Armchair with vase-shaped vertical splat and curved top-rail, England. circa 1740. Robert Bradley Antiques.
1717 seems to mark the introduction of the 'India' or 'Bended' back to England. Richard Robert, the carver and joiner to the Royal Household between 1714 and 1729, is believed to have supplied a set of 18 English vertical-splat chairs to Hampton Court Palace, and the terminology 'India' began to be used in invoices and inventories.
How did this explicit acknowledgement of Asia (if not China specifically) in the terminology come about?
Nicholas Grindley conjures up a rather romantic image of how this could have happened. At the time, 'India' was a descriptive term for the whole of Asia, and his vision is of an English cabinet maker in his workshop noticing a small figure in a yokeback armchair on a lacquer screen imported from China, which he has been tasked with cutting into a mirror frame or part of a cabinet. So inspired, he rushes to his associate and the 'India' chair is created.
It is perhaps more likely that someone saw the figure on a porcelain vase or bowl, as Chinese blue-and-white porcelain was highly collectable from Elizabethan times and peaked in the reign of William and Mary (between 1689 and 1702).
R. W. Symonds has proposed a third option, namely that the East India Company was importing hardwood furniture into England in the reign of Queen Anne, and that is was these imports that inspired the adoption of the vertical splat.[7] The same theory is also promoted by R. H. Ellsworth, who speaks of "the moulded rail and spoon shaped splat" derived from Chinese folding yokeback chairs which were brought to Europe as curiosities in the 17th century (fig. 3).[8]
Ellsworth refers specifically to two lacquered folding yokeback chairs in the apartments of Philip II of Spain (who reigned from 1556 to 1598) at El Escorial in Madrid. These chairs do have vertical splats, but are much closer to chairs made in China for export to Japan. These appear in multiple varieties on Japanese screens of the late 16th and early 17th centuries showing Europeans ('foreign barbarians,' nanban). The earliest Chinese yokeback, or for that matter rounded-back, or 'horseshoe,' armchair in a Western collection is in the Design Museum in Copenhagen, and was acquired in the late 19th century.
The English furniture workshops of the early 18th century sadly did not leave us the details of how or why they developed the vertical splat, only that they acknowledged a certain foreign influence. Suffice it to say that the decision completely revolutionised chair design in Britain.
---
[1] Among the English-language sources are Louise Hawley Stone, The Chair in China (Toronto, 1952); C. P. Fitzgerald, Barbarian Beds: The Origin of the Chair in China (London, 1965); Wu Tung, 'From Imported Nomadic Seat to Chinese Folding Armchair,' Bulletin of the Museum of Fine Arts, Boston 71 (1973); and Craig Clunas, Chinese Furniture, in Victoria & Albert Museum Far East Series (London, 1988).
[2] This chair is closely related to a chair unearthed in 1970 from a tomb at Jiefangyingzi, north of Chifeng in Inner Mongolia, datable to the Liao dynasty. A sample taken from the seat-rail tenon of this chair gives a radiocarbon date of 560 – 790 CE, with a more specific 1 sigma dating of 630 – 686 CE.