For BADA Week 2022, Tim Bowen Antiques have chosen to feature this magnificent and rare large 19th century Welsh sycamore lovespoon with important provenance. 
It has a wonderfully shaped bowl, a hooked and beautifully chip-carved handle which is inscribed Margaret Thomas. 
The hooked handle is perhaps more reminiscent of a Welsh lletwad (ladle) that also formed part of the Welsh folkart tradition of lovespoon carving. 
With W.J.Shepherd collection & Sothebys auction text labels fixed to the reverse.
Wales 19th century.
68.5cm long x 19cm wide at the bowl
£8500.00
Provenance:
Formerly this lovespoon was in three important treen collections, Edward H Pinto,  W J Shepherd & St John and Judy Stimpson.  It is illustrated in two respected treen publications.
1. Treen or Small Woodware Throughout the Ages by Edward H. Pinto, published by B.T. Batsford Ltd 1949.

Illustration No. 42 & described on page 35:
'The outsize sycamore spoon is 27 in. long. Carved with the name "Margaret Thomas" in a border, it has a hook under the handle, carved from the solid.'
2. Sotheby's London 1983 - The W.J.Shepherd Collection of Treen. 
Lot 682, illustrated & described on page 91 of the sale catalogue: 
'An 18th/19th century large sycamore love spoon with shaped bowl and flat chip-carved rectangular handle inscribed Margaret Thomas, with a curved bowl rest. (This is reputed to be the largest known love spoon).'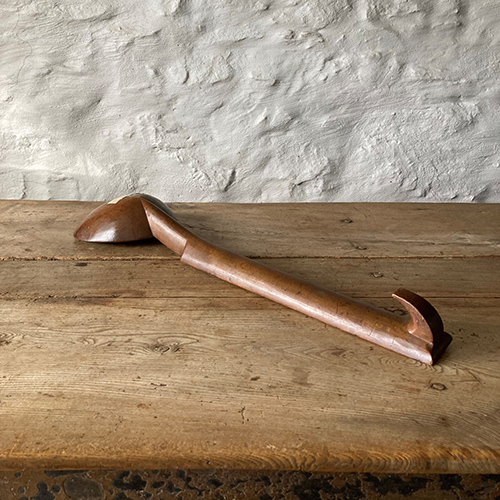 3. The St John & Judy Stimson treen & folkart collection Pembroke (formerly the Museum of the Home, Westgate Street, Pembroke).
To make an enquiry contact Tim Bowen Antiques on +44 (0)1267 267122 or email
Tim Bowen Antiques
Online
United Kingdom