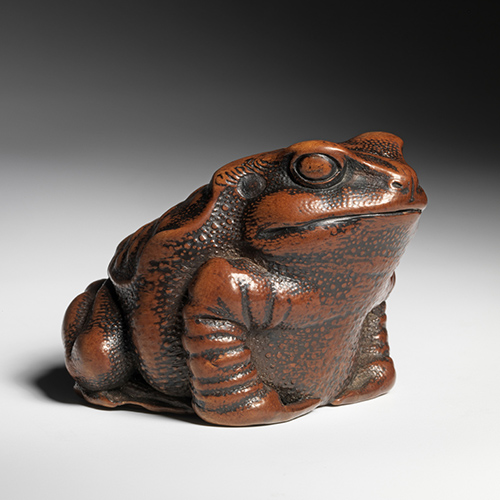 For BADA Week 2022, Sydney L Moss have chosen to feature this very large boxwood seated toad by Mitani Gohō. His warty skin rendered overall in incalculably technically challenging ukibori pimples. He is one of Gohō's greatest works.
Aki (Hiroshima, and its hinterland).
H4.4 x W5.2 x L6.2 cm.

Okada, Barbra Teri & Mary Gardner Neill, Real and Imaginary Beings: The Netsuke Collection of Joseph and Edie Kurstin, New Haven, Connecticut, Yale University Art Gallery, 1980, p.55, no.36
Lazarnick, George, Netsuke & Inro Artists and How to Read Their Signatures, Honolulu, Reed Publishers, 1982, p.411
Illustrated: International Netsuke Collectors' Society, v8 n1 p.28 fig.36
Kobijutsu Rokushō: Rokushō, vol. 20, Kyoto, 1996, p.59, no.81

Burditt, David, The Iwami Carvers: The Work of Gansui and Gohō, International Netsuke Society Journal, vol.19, no.3, Fall 1999, p.42, figs 12 & 13.
Earle, Joe, Iwami Netsuke: The Robert S. Huthart Collection, Hong Kong, 2000, p.179, no.153.
To make an enquiry contact Sydney L Moss on +44 (0)20 7629 4670 or email [email protected]
Sydney L Moss
12 Queen Street
London
W1J 5PG
United Kingdom