For BADA Week 2022, Solo Antiques have chosen to feature this beautiful, recently acquired collection of Daum Landscape vases.
Daum Landscape vases are amongst the most beautiful and sought after designs made by Daum. The majority were made between 1900 and 1910. This majority of this selection here have just been acquired from a Private Collection in France. All are available on my website www.solo-antiques.co.uk.
In 1878, Jean Daum (1825-1885) a Lawyer, bought the Sainte-Catherine glassworks in Nancy. He made both of his sons partners in the business - Auguste in 1879 and Antonin in 1887.
Upon finishing his classical education in Bitche, Metz, and Nancy, Auguste Daum received a law degree from the university in Paris.
He abandoned his law career in order to manage his father's factory and, in 1904, he became the president of the Nancy Commercial Tribunal. Upon his death in 1909, his brother Antonin took over the family business. Antonin was a student in Lunéville and then attended a secondary school in Nancy. In 1887, he graduated from the Ecole Centrale de Paris and joined the glass factory to attend to the renovation of forms and decorations.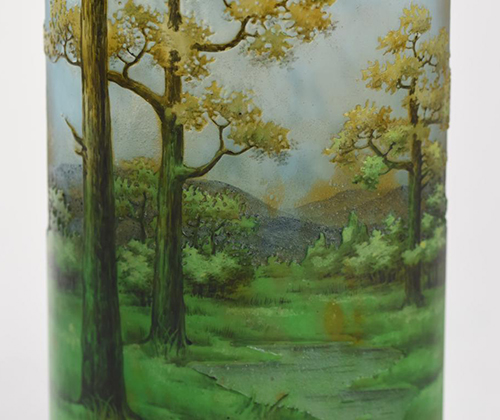 Auguste's management and Antonin's creative talent gave the business a new economic and artistic dimension, most notably with the creation of an artistic glassmaking section in Nancy in 1891. The business developed several new techniques, the vitrification des poudres amongst others. In 1899, they patented their décor intercalaire. 
Antonin Daum was vice president and treasurer of the Ecole de Nancy from its creation in 1901.
Click here to view the complete collection online

To make an enquiry contact Mary Cooke Antiques on +44 (0)1995 671096 or click here to email.
Solo Antiques
Online
United Kingdom