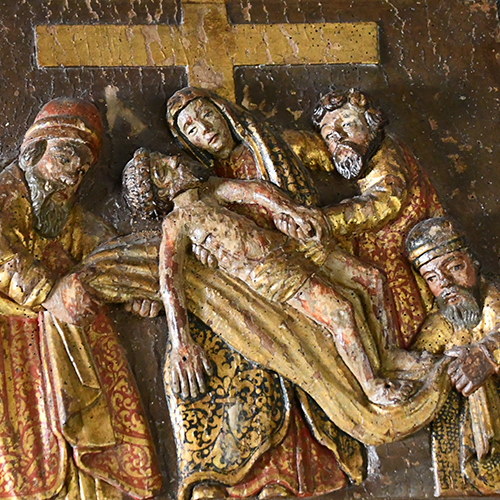 For BADA week, English oak furniture and carvings specialists Shaw Edwards Antiques will be unveiling two recently required items of stock.
The first is a late medieval German polychromed and carved Limewood fragment from an altar back depicting a scene from the story of the Passion, circa 1480 (pictured above right).  It is finely carved and has great expressive and emotional quality.  
On the left-hand side is Joseph of Arimathea and to the right is Nicodemus, with Mary Magdalene at the centre supporting the body of Jesus.  The bearded man is unidentified.  As was the convention in the religious presentation of this scene, Joseph takes the upper body of Christ, and Nicodemus the lower.  Both in terms of size and the sumptuous style of his clothes, Joseph's wealth and status is emphasised over the lower status of Nicodemus.   
The composition of the figural group with the inward curved lean of the two outer figures is typical of a form used at this period as can be seen in the scenes on the Altar wings of the high altar in Lautenbach in the "Pilgrimage Church of the Coronation of the Virgin", see plates 42 – 52: Carved Altarpieces, Masterpieces of the late Gothic", (Rainer Kahsnitz  – Achim Bunz).
Dimensions:  Height 42 centimetres, Width 48 centimetres.
The second piece is a monumental sized Dug-out Armchair circa 1780 – 1800 (pictued right).  Dug out from an Oak tree trunk it has a cupboard fitted below the seat with the initials "A S : F S.
There is a reinforcing strip to the left hand side wing of the chair which has been there for a very long time.  The bottom has a metal strip all the way round it presumably from when it was made to help to counter any rot arising from damp floors.  All in all it is a very sound chair in excellent condition.
Dimensions: Height 115 centimetres, Maximum width - 72 centimetres, Maximum depth 44 centimetres, Height floor to seat - 43 centimetres.
For further information on either piece and to make an enquiry contact Shaw Edwards Antiques on 01189 410847, 07968 288281 or email [email protected]
Shaw Edwards Antiques
Online
United Kingdom