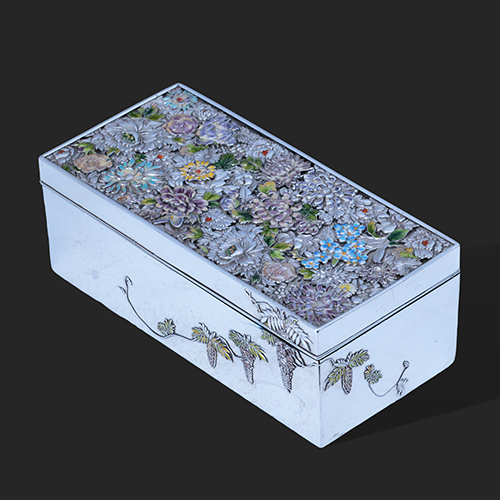 For BADA week The Peartree Collection has chosen to feature this beautiful Meiji period Japanese silver box by the famous silversmith Sanju Saku.  The box was retailed by the royal jewellers in Scotland, Edward and Sons, and exemplifies the close links between Japanese design and the emerging art nouveau movement in Europe.
For sale is this outstanding Japanese Meiji period silver and enamel box.  The lid of the box is designed as a montage of applied silver flowers with enamel highlights in subtle blues, purples and yellows.  With splashes of more intense green foliage and orange stamens.  A single butterfly can be found on close inspection!   The four sides of the box are similarly decorated with enamelled trailing wisteria and swallows.  The base is solid silver.
The base carries the triangular turtle mark of the renowned Japanese maker Sanju Saku (image right), one of Japan's leading silversmiths, based in Yokahama, making and retailing silver with enamels to this style circa 1880-1920.  Affirming the exceptional quality of this piece, the box also carries the name of the leading Scottish retail jeweller and luxury goods store Edward & Sons.
The box is in overall excellent original condition.  These are tiny, not noticeable enamel losses mainly to one or two green leaves.  The silver is similarly in excellent condition with just one small bruise to the front left corner of the box.
The interior of the box is cedar wood and could readily be lined (I can arrange on request) to create a perfect jewellery box.
Price: £7,500.

Maker: Sanju Saku.
Designer: Sanju Saku.
Date: Meiji circa 1900.
Marks: Turtle mark, Edward & Sons, Glasgow.
Material: Sterling Silver, enamel.
Condition: Excellent – see description.
Size: 17cm long, 8cm wide, 6cm high.
Weight: 22.5 oz, 639 grams.
To make an enquiry contact The Peartree Collection on +44 20 8731 8023 or +44 7771965808 or email [email protected]
The Peartree Collection
Online
United Kingdom