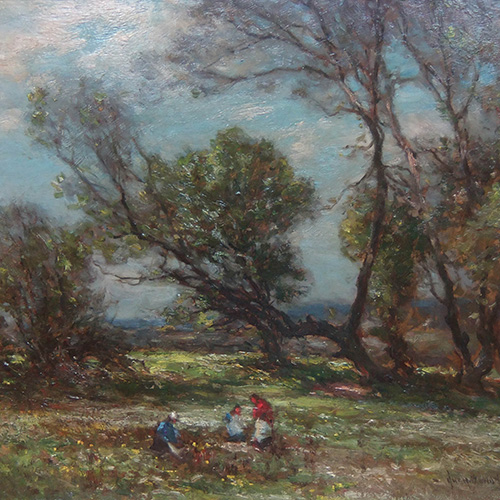 To celebrate BADA Week 2022, McTague of Harrogate will be holding an online exhibition of new inventory.
Based in the delightful Spa town of Harrogate, North Yorkshire, McTague specialise in landscape paintings of a Yorkshire and Northern interest.
Examples from the forthcoming exhibition include The Primrose Field by Owen Bowen (pictured top right).
Born in Leeds in 1873, Bowen was educated at Leeds School of Art before working as a pottery designer and lithography apprentice. He exhibited his work regularly throughout England, showing at the Walker Gallery, the Royal Cambrian Academy and the R.A.
Also included in the exhibition is The Artist's Studio by fellow Yorkshire painter Fred Stead, (pictured right).
Born in Shipley, Stead studied in London at the National Art Training School, later renamed the Royal College of Art.
He gained popularity as a portrait painter, capturing many of the more affluent members of Bradford society, which allowed him to indulge his passion for painting Yorkshire landscapes.
He exhibited regularly at the Yorkshire Union of Artists and at exhibitions in Birmingham, Liverpool, Manchester, and at the Royal Academy in London.
To make an enquiry or for further information contact McTague of Harrogate on +44 (0)1423 567086 or email [email protected].
McTague of Harrogate
Online
United Kingdom