For BADA Week 2022, J Roger Antiques have chosen to feature this superb George III mahogany wine cooler.
An important oval brass bound George III mahogany wine cooler of the Adam period. On a fine original base, fluted, with moulded legs ending in leather castors. 
The Wine Cooler retains the original lining and a brass tap decorated with a dolphin for draining water (pictured below right). This would have been a very unusual and desirable feature at the time as dolphins were considered to be lucky.
Robert Adam writes in The Works of Architecture that Englishmen are 'accustomed by habit or indeed by the nature of our climate to indulge more largely in the enjoyment of the bottle' than the French. This inclination has led to great care taken in the design and construction of cellarets.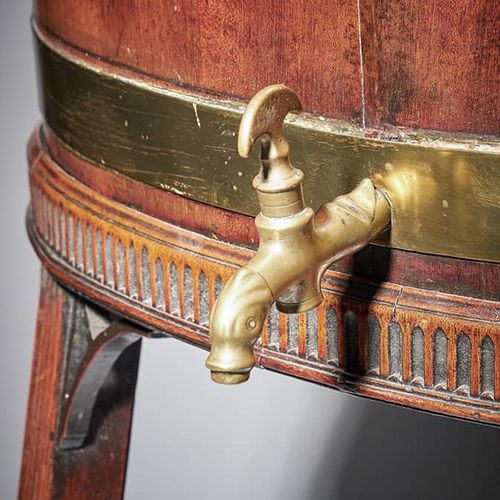 Hepplewhite's guide (1788) says 'They are generally made of mahogany hooped with brass lacquered, the inner part is divided with partitions, and lined with lead for bottles. They may be of any shape'.
Cellarets were low enough to keep under the sideboard. Nowadays the oval flat-topped model is often used as a highly decorative as well as useful piece of furniture, placed for instance between two armchairs.
Outstanding colour and patination.
Circa 1780.
Measurements
63.50 cm or 25″ wide.
46 cm or 18″ deep.
71 cm or 28″ high.
For further information or to arrange a viewing, please telephone 020 7603 7627, or 07867 747 521 or email [email protected]
J Roger Antiques
Online
United Kingdom