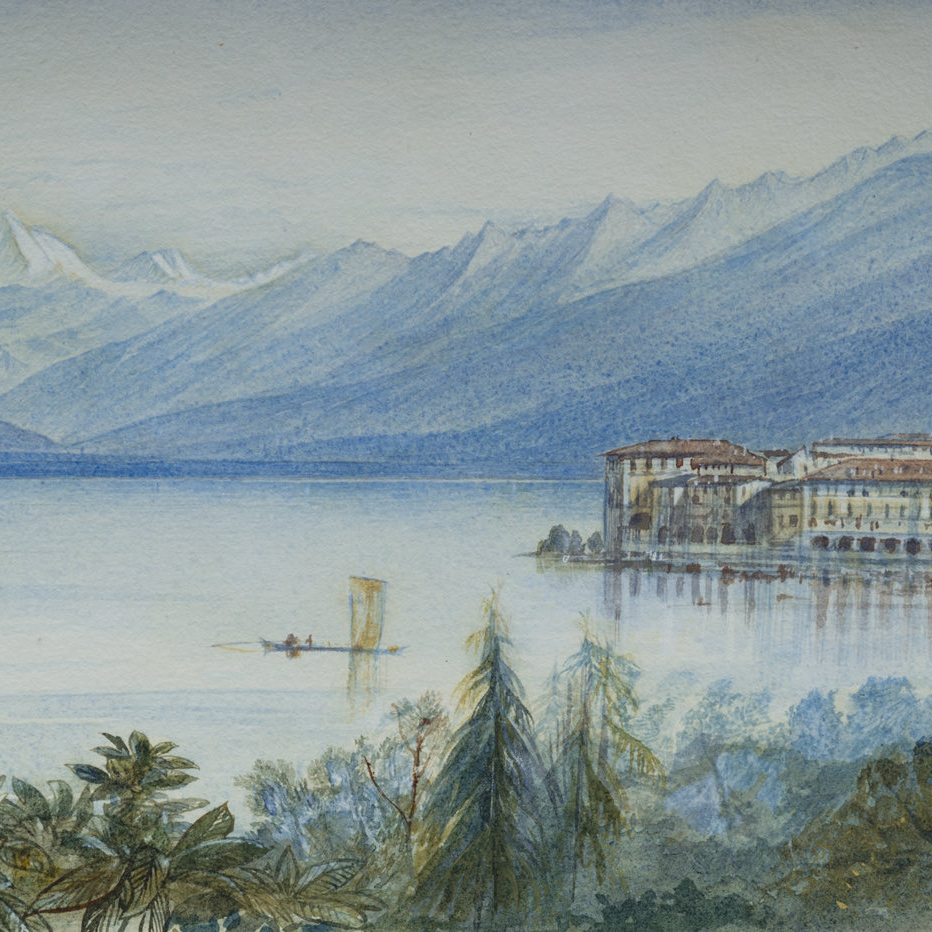 BADA member Guy Peppiatt will be exhibiting drawings and watercolours by Edward Lear online, by catalogue and, from April 12th, at his gallery in person.
View the online catalogue here.
For many, Lear is still best known as a poet and writer of limericks. His unique style, his made-up language, love of the ridiculous and his rebellious rule-breaking side, has appealed to children and adults alike throughout the centuries. In 2014, The Owl and the Pussy Cat topped the poll of Britain's most popular childhood poem. Lear's paintings and drawings have over the years become better known. His distinctive style, which evolved out of his desire to rapidly capture the myriad subjects before him and his dynamic use of colour in both oil and watercolour, are a visual reflection of the man, his insatiable curiosity and his individuality.

Given Edward Lear's high profile, there have been surprisingly few recent exhibitions of his work. In 1985, the ground-breaking exhibition at the Royal Academy brought him as an artist to the attention of the general public. Subsequently Charles Nugent's exhibition of 2009 at the Wordsworth Trust in Grasmere, accompanied by a fine catalogue, concentrated on his early Irish and English works. Then the bicentenary of his birth in 2012 was celebrated by a small exhibition at the Ashmolean Museum, as well as an exhibition of his Greek views on Corfu. His bicentenary also led to the foundation of the Edward Lear Society in 2014 (see www.edwardlearsociety.org for more information). Vivien Noakes (1937-2011), a great champion of his work, produced the first modern biography in 1968, 'The Life of a Wanderer', curated the Royal Academy exhibition in 1985 and published a selection of his many letters in 1988. More recently the first major biography of the artist, 'Mr Lear: A Life of Art and Nonsense' by Jenny Uglow, was published in 2017.

We are delighted to have put together this group of watercolours and drawings spanning all periods of his career, the first selling exhibition of Lear's work since at least the 1980s. The catalogue is arranged chronologically, the earliest, a watercolour of a shrew (no.1), dates from 1832 when he was only 20. His early works were mainly of animals and birds, many drawn at the Zoological Society in Regent's Park, London, or at the menagerie, Knowsley Hall near Liverpool. These early drawings are executed with a vivid naturalism, vivacity and attention to detail. In 1837 Lord Derby of Knowsley and his cousin Robert Hornby paid for Lear to travel to Rome, partly for his health, and he remained there until 1848.

Lear's earliest landscape drawings date from circa 1834 and were executed in pencil heightened with white bodycolour in the manner of the popular drawing master James Duffield Harding. His earliest drawings on his Italian journey (see nos. 8 and 9) continue to use the same medium, as do the finished engraved works of circa 1840 (see no.7). However by the mid-1840s, Lear's unique watercolour style (see nos. 10 and 11) was emerging.

England was never home for Lear again, except for a period in the late 1840s/early 1850s, rather his life became a series of travels, some considerably extended and others rather shorter. He lived on Corfu from 1855 to 1864 (see nos. 16 and 17) and travelled round the Ionian Islands in 1848 and 1863, visiting Mount Athos in 1856 (no.31). He visited Egypt in 1849, 1853-4 and 1866-7 (nos. 14 and 19), the Middle East in 1858 and 1867 (nos. 15 and 20) and Malta in 1862 (no.18). He visited Corsica in 1868 (no.21) and his last and longest tour was to India and Sri Lanka in 1873-4 to see his friend Lord Northbrook who was Viceroy at the time.

After leaving Corfu, when the British handed it back to Greece in 1864, he spent several winters in Cannes before moving across the border to San Remo in north-west Italy in 1870 where he lived until his death in 1888. Most of his late works are simple pen and brown ink and wash drawings of the Italian countryside with Monte Generoso (see nos. 26 and 27) being a favourite subject. The thousands of drawings, watercolours and paintings, as well as his vast correspondence (much of which has been published) and the many diaries that survive (Houghton Library, Harvard) all allow us to travel with the artist and understand something of his experiences.

Lear's works on paper can generally be divided into two types. The most common are his on-the-spot sketches which are usually inscribed with the location and time and date of the drawing often with colour notes. He would only do the pencil underdrawing on the spot then usually add ink and watercolour in the evenings. The second type are his studio works which are fully finished and often colourful. They are usually signed, sometimes in full and from 1858 they are often signed with a monogram.
Guy Peppiatt Fine Art, Riverwide House
6 Mason's Yard, Duke Street, St James's
London
SW1Y 6BU
United Kingdom