Barcelona – Paris, 1860 – 1936: A Journey to Modernity
Colnaghi
October 6 – November 18, 2022
Colnaghi, London will present a survey of painting by Spanish artists of the late nineteenth and twentieth centuries working in Paris this autumn. Running from 6th October – 18th November, 2022, Barcelona – Paris, 1860-1936: A Journey to Modernity reflects the continued interest in this period, and builds upon two previous exhibitions showcasing work by Spanish Modernists at the gallery in 2020 and 2021. To realise this presentation, Colnaghi (est. 1760), will once again collaborate with two of Barcelona's most important and historic galleries, Sala Parés (est. 1877) and Artur Ramon Art (est. 1911), combining more than five hundred years of collective expertise.
Barcelona – Paris, 1860-1936: A Journey to Modernity is comprised of over 50 works by 29 artists, who travelled from Barcelona to Paris, to live, work and draw inspiration from the avant-garde city of lights. This exhibition explores the impact of this crucial journey on their work, whilst re-evaluating their contribution to the canon of Modern Art. Most of the featured artists trained at the art academies of Barcelona, but, as with Picasso, were drawn to Paris, at the time the epicentre of the artworld. The variety of styles and techniques presented here attest to their absorption within the city and the influence of their peers and contemporaries. The aim of this ongoing collaboration between the three galleries is to continue to reignite interest in these underappreciated artists.
Says Colnaghi CEO, Jorge Coll: "In staging this third exhibition in collaboration with Sala Parés and Artur Ramon, we are seeking to reconstruct the local Spanish art scene at the turn of the 20th century in Paris. Many of these artists are relatively unknown to the rest of the world, and we hope that this exhibition will help bring them to wider public recognition and restore the prestige of arguably one of the best schools of painting in Europe."
Image captions:
Top right
Joan Cardona
Leaving the Moulin Rouge
Paris, 1900
Oil on panel
10 x 15 cm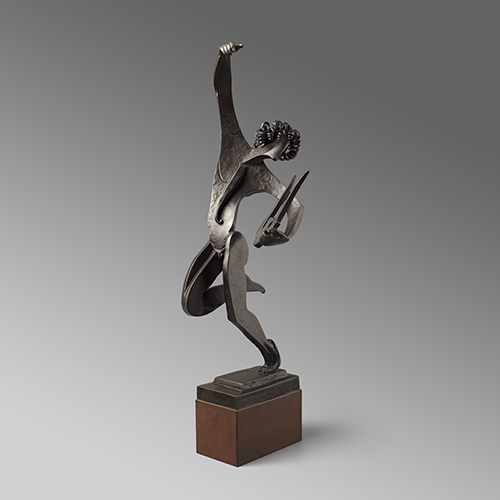 Above Right
Marià Andreu
Le Travesti et le miroir
Paris, 1928
Oil on canvas
125 x 98 cm
Right
Pablo Gargallo
David, 1934
Artist's proof
Bronze
54 x 19.7 x 18 cm
Below Right
Pere Ysern Alié
Moulin Rouge
Paris, circa 1913
Oil on panel
25 x 35 cm
Featured artists: Marià Andreu (1888-1976), Francisco Bores (1898-1972), Ricard Canals (1876-1931), Hermen Anglada-Camarasa (1871 – 1959), Antoni Clavé (1913-2005), Ramon Casas (1866-1932), Pere Pruna (1904-1977),
Ricard Opisso (1880-1966), Josep de Togores (1893-1970), Josep Clarà (1878-1958), Enric Clarasó (1857-1951), Joaquim Sunyer (1874-1956), Emilio Sala y Francés (1850 – 1910), Carlos Vázquez Úbeda (1869 – 1944), Olga Sacharoff (1889 – 1967), Isidre Nonell (1872 – 1911), Pau Roig Cisa (1879 – 1955), Julio González i Pellicer (1876 – 1942), Manuel Humbert (1890 – 1975), Pere Ysern Alié (1875 – 1946), Josep Maria Marquès Puig (1891 – 1950), Joan Cardona i Lladós (1877 – 1957), Manuel Feliu de Lemus (1865 – 1922), Pablo Gargallo (1881 – 1934), Santiago Rusiñol (1861 – 1931), Manolo Hugué (1872 – 1945), Ramon Pichot (1871 – 1925), Francesc Miralles i Galaup (1848 – 1901).
Colnaghi, London
26 Bury St, St James's
London
SW1Y 6AL
United Kingdom