A Recent Aquisition - Regional Furniture
But Which Region?

17th century Oak Coffer or Joined Chest with three carved panels, single drawer and three plank top. Retaining the original interior till. The initials MD carved on the front.
Circa 1630/50.
Width: 130 cms.
Depth: 57 cms.
Height: 80 cms.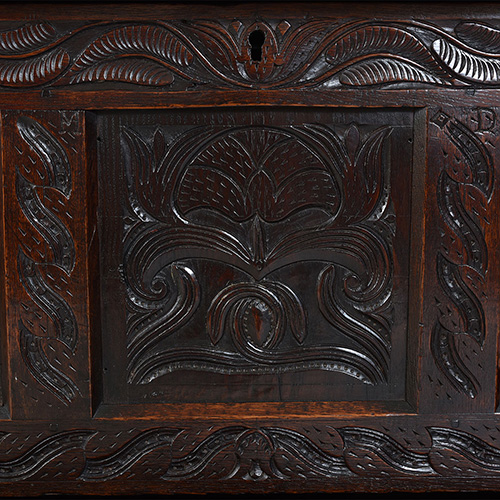 The publications – 'Oak Furniture in Dorset:  Some Introductory Thoughts' (1976) and 'Oak Furniture From Gloucestershire and Somerset' (1976), Anthony Wells-Cole writes that it is difficult to establish exactly where pieces of portable furniture were made. By way of an example - it was discovered that a dated chest existing in Dorset was later found to have been made in the Lake District. 
The style of coffer many people think of as being from Dorset would be one with relatively shallow geometric carving which is often painted with red, black and sometimes blue paint or stain.
So to look in detail at our recent acquisition of this 17th century Oak Coffer.
The overall effect is one of deep almost luxurious carving – now a wonderfully rich colour and patination.
The naturalistically carved foliage to the top rail and drawer front is identical to that on a table illustrated in Wells-Cole's publication on Dorset Furniture. (See image right). However, he states that this band is unusual for Dorset furniture which was more commonly carved with run-moulding, scrolls and rope decoration. There is a table shown in his work on Somerset items which shows a table with a similar frieze – but the leaves on this are more geometrical in feel.
The 'rope' type carving to the uprights, lower section of the drawer and rail is used for a coffer from Gloucestershire dated the second half of the 17th century and on an armchair dated 1630-50 currently in the V and A, London from the Riviere family in Glos. In Victor Chinnery's book – 'Oak Furniture- The British Tradition' he illustrates a joined chest Gloucestershire circa 1640 (see above) which shows this type of carving.
The three carved panels, (which retain the original marking out lines used to keep to such a precise pattern) are composed of carnations, flanked by tulips and these designs are said to have been influenced by embroidery and folk-art patterns. Floral and foliage carving is common in many regions including Yorkshire with its inlaid designs of holly and bog oak. Tulips can be found on 17th century Derbyshire chairs, whilst daisy heads are found on both Gloucestershire and Somerset furniture.
Illustrated to the right and below is a coffer from our sold archives with ties to the workshop of Humphrey Beckham in Salisbury and the Speke Family from Somerset. 
This has many similar features to our recent acquisition – the rope style carving to the uprights, the naturalistic foliage – but this coffer with two drawers. Again, deep and crisp carving – a rich, dark colour and fine patination. The rope carving is shown in Chinnery on a joined stool dated circa 1620.  The interesting fact is that it suggests an attribution to the Beckham family workshop as our coffer illustrated above.
As we can see, some of the carved details run through many areas from Salisbury, the base of Beckham, through to Dorset, Somerset and Gloucestershire. 
Therefore, in conclusion, it would seem whilst it is possible to attribute some of the carved pieces of furniture to certain areas of the country it is by no means definite.
To make an enquiry or for further information contact Elaine Phillips Antiques on +44 (0)7710 793753 or email [email protected].
Elaine Phillips Antiques
Online
United Kingdom