Christmas Selling Exhibition
Saturday 3rd December – Saturday 24th December.
I hope that you will be able to join me at this year's Christmas Exhibition. I have put together about fifty pieces of early furniture and works of art, the great majority being on the small side and chosen for their colour and patination. Most of the pieces can be seen on my website under Christmas Selling Exhibition 2022. Further pieces will be added until the exhibition opens. 
There are a few larger pieces including two very nice oak dresser bases – one a Charles II low dresser with moulded front drawers and the other a classic Montgomeryshire base with a potboard. With Christmas lunch in mind there is George III ash 8/10-seater farmhouse refectory table with a good width, a narrower 8-seater trestle base tavern table with a lovely elm top and a yew wood six seater gateleg table with superb colour.
Smaller pieces include a very useful two part moulded front chest of drawers and a Norfolk chest of narrow proportions. Smaller still are a Georgian tripod table with a superb burr elm top, two good joint stools and three Windsor armchairs including a wonderful yew wood comb back. In addition, there is a charming wall cupboard with a parquetry door, a Welsh spoon rack with superb colour, a tiny oak corner cupboard and a small William and Mary oak side table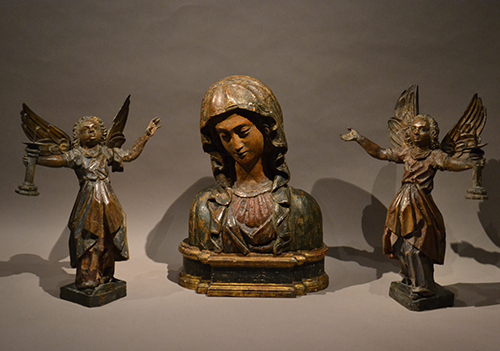 Amongst the works of art is a stunning late 15th century lime wood bust of the Virgin Mary, a very rare pair of standing angels with pricket candlesticks and a wonderful Enoch Wood slipware bird dish. There are five pairs of early brass candlesticks including two signed pairs and an early 18th century sundial.
I hope to see you at the exhibition where you will be able to wander round over the first weekend fortified by a glass or two of wine. Please contact me by phone 07860 521583 or email if you would like any further information.
Andrew Singleton.
Click here to view the Christmas Exhibition online
Suffolk House Antiques
High Street
Yoxford
IP17 3EP
United Kingdom