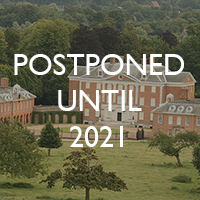 Chevening: A Private Tour - The Official Residence of the Foreigh Secretary
POSTPONED UNTIL 2021.
The date to be confirmed but the visit will take place in the afternoon from 2-4.30pm.  
The early 17th-century Chevening House was the home of the Stanhope family, whose memorials are in the church and its burial ground.  
The house was bequeathed to the nation by the seventh and last Earl Stanhope, who hoped that the young Charles, Prince of Wales would live there.  
However, the Prince eventually declined the house in favour of Highgrove and Chevening House is now the official country residence of the Foreign Secretary.  
The house, for obvious reasons, is not generally open to the public and the board of Trustees only grants seven tours per year, so I am delighted that the Trust has been one of the lucky ones.
Tickets are limited but guests are welcome.
Tickets are limited to 25 so if you are interested in attending the please email Friends Director Anne Green at [email protected] or call 020 7581 5259
£48; Guest price: £50 to include a private tour of the house and tea afterwards
Chevening House
Sevenoaks
TN14 6HG
United Kingdom