Flower Painters of the 19th and 20th Centuries
Flowers have been painted since the time of the ancient Egyptians, Greeks and Romans, spanning diverse cultures from China, India, and Europe. They have been drawn and painted as objects of scientific enquiry, philosophical discourse and for pure decorative enjoyment. The examples in this small selection illustrate some of the varied ways flowers have been depicted on canvas by European artists over the last 150 years.

Albert Durer Lucas (1828-1918), the son of sculptor Richard Cockle Lucas, painted small, detailed studies of flowers and foliage, sometimes with butterflies and other insects. He represents the Victorian preoccupation with the classification, tabulation and illustration of the natural environment.
His small canvasses reveal a miniature world full of meticulously observed British native plants and insects in the wild. He almost always recorded the names of the plants he had painted in his pencilled notes on the stretchers of the paintings.
 
Image 1
Heather, Gorse, Fern & Feather by Albert Durer Lucas (1828-1918)
Signed and dated 1871
Oil on Canvas 10" x 8"
Image 2
Lily of the Valley by Albert Durer Lucas (1828-1918)
Signed and dated 1871
Oil on Canvas 10" x 8".

Cecil Kennedy (1905-1997) was born in Leyton on 4th February, 1905.  He was born into a large Victorian family of artists, and before he was 24 he had shown at the Royal Scottish Academy and the Royal Hibernian Academy and then went on to exhibit regularly at the Royal Academy.
During the early 1930's Cecil Kennedy married Winifred Aves and for sixty-four years they worked together as a creative team; she was skilled at creating the stylised flower arrangements that Kennedy painted.
During the Second World War Kennedy was stationed in Antwerp and it was here that he familiarized himself with Dutch and Flemish Old Master flower paintings at first hand.  He befriended Flemish painters and this interaction brought about a change in Kennedy's painting style. His assimilation of Dutch techniques and subject matter is apparent in the minute observation of the structure of the flowers, the incorporation of beads of dew and the inclusion of insects hidden among the foliage, all familiar from 17th century Netherlandish flower paintings.
Nevertheless, his style was not a repetition of the Dutch Masters – it was cleaner, more clinical and unmistakeably 20th century in its simplicity and smoothness. His were works created in the studio – arranged and controlled to achieve the perfect finish he came to exemplify. 
Cecil Kennedy is widely regarded as perhaps the finest British painter of flowers of the 20th Century.  In his work he often juxtaposes modern exotic hybrid blooms with traditional English flowers and grasses. His work is celebrated internationally for its exquisite detail and artful composition and his paintings can be found in collections throughout the world.
Image 3
Cecil Kennedy (1905 – 1997)
Symphony in White
Signed. Painted circa 1960
Oil on Canvas
26 x 20 inches
View here
Image 4
Cecil Kennedy (1905 – 1997)
Meg Roses
Signed
Oil on Canvas
24 x 20 ins
Provenance: The Fine Art Society, July 1968
View here
Image 5
Cecil Kennedy (1905 – 1997)
Pink Roses in a Glass Vase
Signed & Painted in 1961
Oil on Canvas
14 x 10 ins
View here
In contrast to the precision and botanical accuracy of artists such as Durer Lucas and Kennedy, two artists became known for a more Impressionistic interpretation of flower painting. In France, Marcel Dyf (known also for his landscape views of the French countryside) painted many flower subjects with broad strokes, and vivid colours. In Britain, the renowned painter of interiors Herbert Davis Richter (1874-1955) also returned time and again to studies of flowers, both within his interior views and as subjects in their own right. Neither was seeking for botanically precise images, yet despite the loosely painted strokes in riotous colours, the species are instantly recognisable, sometimes rendered with just the casual flick of a brushstroke.

Marcel Dyf (1899-1985) was born in Paris on the 7th October 1899.  As a youth he was influenced by the Impressionist and Post- Impressionist movements that he observed in Paris and Normandy, where he spent his holidays.
He started a career in engineering, but it was short lived and he was still in his early twenties when he decided to become an artist.  He moved to Arles in Provence where he bought a studio and began painting.  Dyf was entirely self-taught as an artist. He remained in Arles for thirteen years before returning to Paris in 1935.  During World War II he joined the Resistance and was based in Correze. 
After the war, Dyf held exhibitions of his work in some of the major cities in France.  In 1950 he acquired a studio in Cannes. A member of l'École Française, Dyf's fame rapidly spread outside his native France and a number of successful exhibitions of his work were held in the United States of America and Great Britain.  He died on 16th September 1985.
Image 6
Marcel Dyf (1899 – 1985)
'Peonies and Godetias'
Signed; Painted 1964
Oil on Canvas 28 5/8 x 23 5/8 ins
Provenance: With Frost and Reed, London, no. 36376
Marcel Dyf e-catalogue raisonné ID849
View here

Herbert Davis Richter was a British artist who worked in many mediums; oil, water-colour and pastel.    
Richter was born in Brighton on 10th May 1874. He studied furniture design at Bath School of Art before setting himself up in business in Bath as an architect and designer 1895-1906. After this period Richter travelled to London to continue his studies, enrolling at Lambeth College and the London School of Art where he studied under Browning and J M Swan.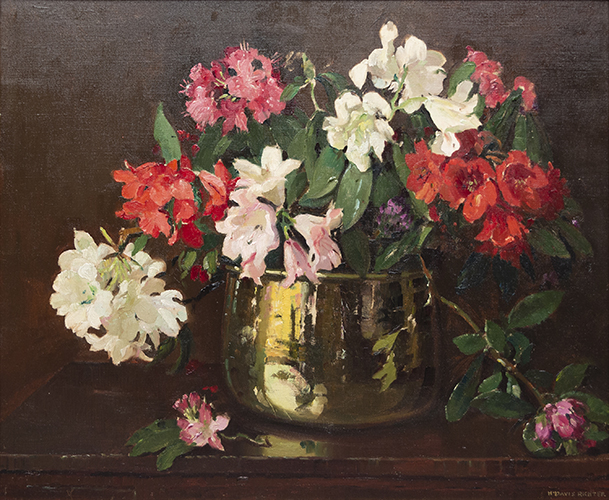 He exhibited his work at the major London Galleries, including the Royal Academy (from 1906) and leading venues in the provinces. From 1928 onwards, Richter also exhibited at the Paris Salon and in 1937 contributed work to the Exposition Internationale de Paris, where he was awarded a Gold Medal.
Richter was elected to the Royal Society of British Artists in 1910, the Pastel Society in 1916, the Royal Institute of Oil Painters 1917, the Royal Institute 1920, the Royal British Colonial Society of Artists 1927 and the Royal Watercolour Society in 1937.
Image 7
Herbert Davis Richter
1874 - 1955
Summer Glory
Signed and Inscribed verso
Oil on Canvas
25 x 30 ins
View here
Image 8
Herbert Davis Richter
1874 - 1955
Wallflowers
Signed and Inscribed verso
Oil on Canvas
20 x 24 ins
View here
To make an enquiry contact Burlington on +44 (0)20-7734 9984 or click here to email.
Burlington
Online
United Kingdom