As part of the event programme for BADA Week 2023, Sutcliffe Galleries are delighted to present an online exhibition of fine 19th century paintings.
 
The exhibition catalogue can viewed online here

The works will also be on display at The Pavilions of Harrogate Decorative, Antique and Fine Art Fair from November 10-12, 2023.

Highlights of the collection include a charming genre painting by William Henry Ward (British fl.1850 - 1882). Entitled 'Wake Up', the piece is dated 1874 and executed in oil on panel (pictured top).
A Birmingham based artist, Ward was a regular exhibitor at the Royal Academy between 1850 and 1872 and was elected to the Birmingham Society of Artists in 1856.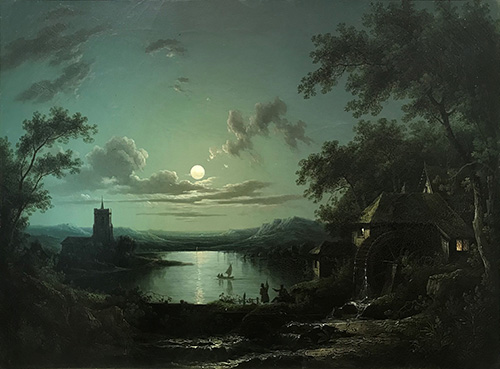 Another notable work from the collection is a dramatic oil painting entitled 'A Moonlit Evening' (image 2) by the British landscape painter Sebastian Pether (1740 - 1844).
Like his father Abraham and brother Henry, Sebastian specialised in moonlit landscape paintings, a technique which earned the trio the nickname the 'Moonlight Pethers'.
Inspired by the work of the 18th century Dutch Masters and their use of light reflection, Sebastian Pether also produced powerful works using sunsets and firelight to dictate the tones and contours of his landscapes.