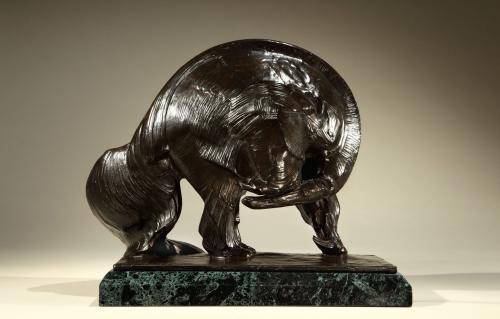 About
Sladmore Gallery
The Sladmore Gallery, founded in 1965, specialises in the sale of fine bronze sculpture and has two galleries and a sculpture garden all based in the centre of London.
In their Jermyn Street gallery, just off Piccadilly, important bronzes by Auguste Rodin, Aristide Maillol, Edgar Degas and Rembrandt Bugatti are always on display, as well as a selection of works by other leading sculptors of the 19th and early 20th centuries.
Sladmore's Bruton Place gallery showcases the work of a small but select stable of contemporary sculptors.
The addition of a private sculpture garden beside the British Museum provides a showcase for their wide range of outdoor sculpture, from macquette to monumental in scale. They are able to supply from stock and also through private commission for both public and private spaces.
An active publishing program of exhibition catalogues and monographs is also an important part of the gallery's activities.
The gallery exhibits at the world's major art fairs, including TEFAF Maastricht, Masterpiece London, and the Paris Biennale. They have for many years advised museums and both corporate and private collectors worldwide.
For further information on stock and services visit The Sladmore Gallery here and Sladmore Contemporary here.
Locations (2)
Fine 19th- & 20th-century bronze sculptures; specialities: 19th-century animalier and sporting sculpture and early 20th-century sculpture including the works of Bugatti, Pompon, Steinlen, Maillol, Degas, Rodin, Troubetzkoy and Sandoz
Address

57 Jermyn Street
St James's
London
SW1Y 6LX
Opening hours
Open Monday-Thursday 10-6; Friday 10-5
Contemporary sculpture and paintings
Address

32 Bruton Place
Berkeley Square
London
W1J 6NW
Opening hours
Open Monday-Friday 10-6; other times by appointment
Contact(s)
Edward Horswell
Gerry Farrell
Nona Horswell
Fairs
TEFAF
Masterpiece London
Biennale Paris
Pavilion of Art and Design
New York and London
International Show
New York