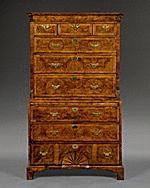 About
Richard Courtney Ltd
Richard Courtney Ltd was first established in London over 40 years ago, and sell English furniture, particularly early 18th-century pieces in walnut. They also hold a small selection of mirrors and needlework, chosen to complement the patina and colour of the furniture they sell.
There was a significant evolution of furniture-making techniques and styles in the period from 1680 to 1820 which saw the reigns of William and Mary, Queen Anne, George I, II and III.
Among the company's stock are fine examples from this period, one of the most well-known in English furniture-making history. They also have pieces from the workshops of leading furniture makers such as Sheraton and Adam.
Richard Courtney started his business on London's Fulham Road and his showroom was located there for nearly 40 years, before moving to Kensington Church Street in 2005. He has now relocated his stock to West Sussex where business is by appointments only.
Richard served on the BADA Council for many years, including two years as Vice President.. He is also a vetter at a number of national antiques fairs, including chairman of the English Furniture Vetting Committee at the BADA Fair.
Richard regularly exhibits at the BADA Fair in London each March and was an exhibitor at the Grosvenor House Antiques Fair every year from 1974 until its final staging in 2009.
Location
18th-century English furniture
Opening hours
Open by appointment in West Sussex
Contact(s)
Richard Courtney