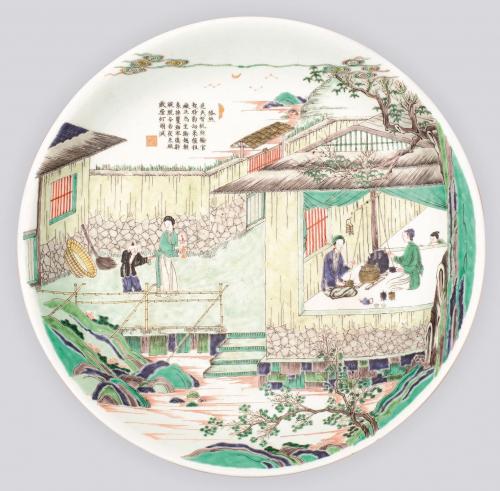 About
Marchant
Marchant was founded by Samuel Sydney Marchant in 1925. He dealt from a gallery in Chancery Lane, London WC2, unfortunately hit by a bomb during World War II and later demolished.
A new gallery was then opened at Duke Street, London W1, where the firm remained until 1953 when it moved to 120 Kensington Church Street.
Second Generation
The second generation, Richard Marchant, joined the firm at that time, specialising in Chinese and Japanese porcelain, jades and works of art.
Richard was Chairman of the British Antique Dealers' Association from 2005 to 2009. He also served as Chairman of the BADA membership committee.
A Family Business
Stuart Marchant, Richard's son, joined the firm after a five years apprenticeship, become the third generation and has been with the business for the last 25 years.
Stuart's daughter Natalie, joined in 2011 as the resident photographer, after obtaining a first at Birmingham University in Visual Communications.
Her brother Samuel, joined in 2015 and works alongside Richard and Stuart. Simon Abraham-Gregory manages the gallery and has done so for the last 24 years.
Stock
The firm's main speciality is Chinese imperial porcelain from Ming to Qing and jades.
Marchant advises private collectors and helps form their collections.
They have produced catalogues since 1980, comprising many private collections, and since 2000 a Recent Acquisitions catalogue has also been published annually.
The firm has exhibited at antique fairs around the world, including Grosvenor House Art & Antiques Fair from 1975 until 2008 and for two years at Masterpiece London.
For further information visit the company website
Location
Chinese Imperial Ming and Qing porcelain, famille verte, blanc de chine, export ware, pottery, jade and works of art; Chinese furniture; Japanese porcelain, ivories and works of art; valuations
Address

120 Kensington Church Street
London
W8 4BH
Opening hours
Open Monday-Friday 9.30-5.30; other times by appointment
Contact(s)
Richard Marchant
Stuart Marchant
Samuel Marchant