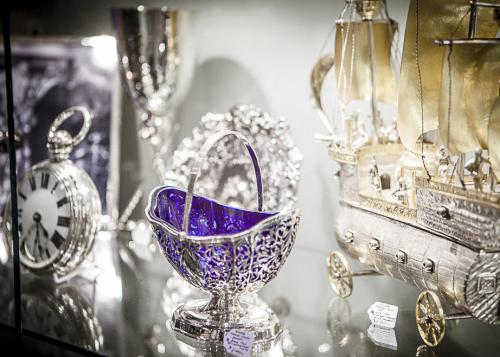 About
Daniel Bexfield Antiques
Daniel Bexfield specialises in fine antique silver and objects of vertu, dating from the 17th to the 20th centuries.
The shop is located in Cecil Court, Covent Garden, London, particularly known for its specialist antiquarian book and map shops.
Stock
Daniel stocks English hallmarked silver, with an extensive range from impressive centrepieces, tea services and large canteens of cutlery to small, highly individual items.
Prices range from £200 to £150,000. Also stocked are some Continental silver pieces and fine jewellery.
Daniel prides himself on only stocking items that are in supreme condition and all pieces are sterling silver (silver-plated items are not sold).
Media & Publications
Daniel's knowledge and high profile has resulted in interview requests and television appearances.
He is publishing editor of The Finial, the bi-monthly magazine for The Silver Spoon Club of Great Britain.
Daniel's book credits include the Buyer's Guide: Silver & Plate, from Miller's Publications.
Clientele
Visitors to the shop range from experienced devotees and collectors, to those just embarking on making their first cherished acquisitions and seeking expert advice.
Celebrity visitors have included the likes of Eric Clapton, President Bill Clinton, Dustin Hoffman, Hugh Laurie and Martina Navratilova, and many more besides.
For further information visit the company website
Location
Silver; restoration; valuations
Address

5 Cecil Court
Covent Garden
London
WC2N 4EZ
Opening hours
Open Monday-Saturday 11-7
Contact(s)
Daniel Bexfield