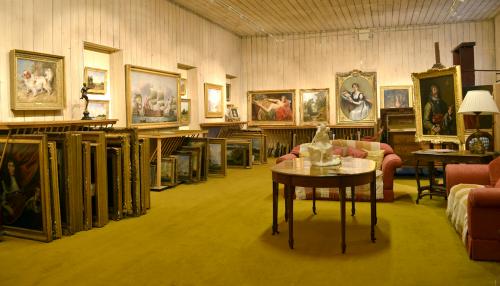 About
Cider House Galleries
The Cider House Galleries have been established for over 30 years and deal in oil paintings from the 17th to early 20th century and in 19th-century bronzes.
Tony Roberts, together with his wife Helen, runs the business from the small village of Bletchingley in Surrey, although the gallery enjoys an international following.
Originally known as 'The Kaplan Gallery' and based in London in the 1950s, the business joined forces with the Cider House Galleries, an art warehouse owned by the Roberts family, in 1971.
Tony and Helen are the second generation to run the gallery.
Stock
The Cider House Galleries hold a large stock of oil paintings depicting a large variety of subjects including portraits, still lives, animal and botanical scenes, seascapes and landscapes.
Tony and Helen Roberts are also happy to source pieces for clients and have assisted in many important and often unusual acquisitions.
They successfully sourced the tables and chairs for the first G8 summit and found, acquired and shipped a birthday present of a Rodin sculpture for a head of state.
The gallery have also supplied pieces to the British, Dutch and Saudi royal families.
Additional Services
Cider House Galleries offer a comprehensive range of client services including, valuations for insurance, probate or sale, fine art installation and low cost professional packing and shipping worldwide.
For further information visit www.ciderhousegalleries.com
Location
17th- to early 20th-century oil paintings; 19th-century bronzes
Address

Norfolk House
80 High Street
Bletchingley
Surrey
RH1 4PA
Opening hours
Open Monday-Friday 10-5.30; weekends by appointment
Contact(s)
Tony Roberts
Helen Roberts
Abigail Holmes