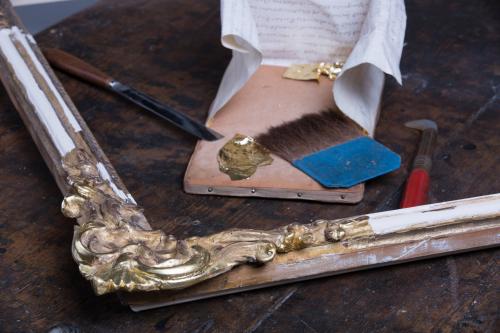 About
Arnold Wiggins & Sons
Arnold Wiggins & Sons are picture framers dealing in antique frames. They have a shop in St James's, London and a workshop that employs the traditional skills of carvers and gilders to make reproduction frames and restore carved and gilded furniture.
The Wiggins family were craftsmen-dealers who, since the early years of the 20th century, collected a stock of antique frames. They established a workshop specialising in the adaption and reproduction of antique frames, and supplied frames to the Royal Household, to the National Gallery and the National Portrait Gallery, as well as private collectors worldwide.
The Wiggins picture frame archive provides an historical perspective that is particularly valuable for those wishing to frame an antique painting in an appropriate way.
Examples of Arnold Wiggins & Sons' stock of antique frames might include gilded examples of 17th century French or 16th century Italian frames. They also stock a good selection of fine 19th century frames, each carefully and subtly gilded to reflect their period.
Michael Gregory trained as a carver and gilder. working alongside Jim Wiggins. He maintains the tradition, advising museums, private collectors and dealers on the framing of paintings.
Since 1955 the business has the distinction of holding a royal warrant from Her Majesty the Queen, as picture frame makers and suppliers to the Royal Collection.
For further information on stock and services visit the company website
Location
Arnold Wiggins & Sons Ltd
16th- to 20th-century picture frames and mirrors
Address

31 Bury Street
St James's
London
SW1Y 6AU
Opening hours
Open Monday-Friday 9-5.30
Contact(s)
Michael Gregory